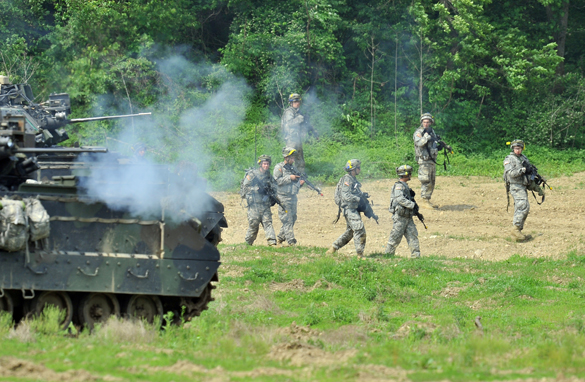 (PHOTO CREDIT: JUNG YEON-JE/AFP/Getty Images)
FROM CNN's Jack Cafferty:
The 1,200 National Guard troops deployed along the U.S. border with Mexico will stay in place until September, a Homeland Security spokesman said late last week. The troops were scheduled to leave June 30th. But a sheriff in southern Arizona calls the move "pandering" on the part of the Obama Administration. That number, he says, falls far short of what's needed to keep the country safe.
Sheriff Paul Babeu of Pinal County in southern Arizona went on to compare the number of troops we have along the U.S. border with Mexico to the more than 28-thousand U.S. troops stationed along the South Korean border with North Korea. The 1,200 guardsmen aid a little more than 20-thousand border agents along the Mexico border, and it's just not enough. For Babeu, who has been named Sheriff of the Year by the National Sheriffs Association, illegal immigrants, drug smuggling, and human trafficking are commonplace in his county. He knows what's needed to protect the border and it's far more than the federal government has been willing to do.
The sheriff's statement comes at a time when Senator John McCain is under fire for some comments he made about immigration over the weekend. After touring the scene of the devastating wildfires in his state, McCain told reporters that there was "substantial evidence" that some of the fires were caused by illegal immigrants. McCain went on to say, "The answer to that part of the problem is to get a secure border."
Senator Jon Kyl and Congressmen Jeff Flake and Paul Gosar, also Republicans from Arizona, released a joint statement backing up what McCain said. But immigrants' rights groups have jumped all over McCain, accusing him of using illegal immigrants as scapegoats.
Here's my question to you: Why are there more U.S. troops on South Korea's border than on our own border?
Interested to know which ones made it on air?
Rebecca in Virginia:
Because the part of the Constitution that reads "For the People" no longer means for the American people. Our government is more concerned with the rest of the world than they are with the citizens of this country
David in Alexandria, Virginia:
I don't know, but I would bet they don't have a problem with illegal aliens. Maybe we should give this a try.
Loren:
Because North and South Korea are still at war. C'mon, Jack, these politicians are pandering. Yes, we should have a more active police presence on the border, but a military presence is uncalled for. We are not at war with Mexico.
Mark in Oklahoma City, Oklahoma:
Jack, isn't it obvious? The North Korean invasion, should it come, will be very violent. Mexico, on the other hand, is carrying out a very "peaceful" invasion of this country. In fact, I think just asking this question may be a violation of illegal immigrants rights. Shame on you, sir.
Eve in Texas:
Because corporate America doesn't want to limit undocumented workers and whatever corporations want, the politicians will do. And, the average voter doesn't possess the courage or critical vision to vote the corrupt, lying politicians out.
T.P.:
The reason for more troops in South Korea is to insure the cheap labor sweat shops serving the Pharaoh's of Wall Street. The reason for less troops on our southern U.S. border is for the same reason. Just think about it a minute.
Mike:
That's easy. To stop all those South Korean border jumpers from entering North Korea and taking all those jobs the North Koreans are too proud to do.