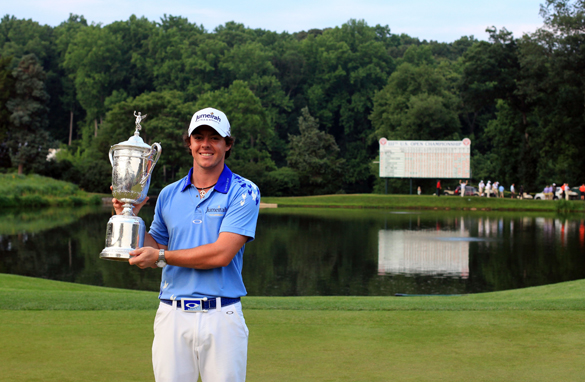 Rory McIlroy of Northern Ireland poses with the trophy after his U.S. Open victory. (PHOTO CREDIT: GETTY IMAGES)
FROM CNN's Jack Cafferty:
A 22-year-old from Northern Ireland won the U.S. Open Sunday at Congressional Country Club outside Washington. It was a stunning performance. It's too bad the same can't be said about NBC, the network televising our national championship.
At the beginning of the telecast, NBC aired a patriotic montage featuring video clips of national monuments and soldiers raising an American flag, cut around a group of school-aged children reciting the Pledge of Allegiance. Only during the pledge, the phrases "under God" and "indivisible" were edited out, twice. The piece was supposed to play up the whole patriotism theme with the golf course hosting our national championship so close to our nation's capital and all. But a lot of people couldn't get past the missing lines. Who does this?
Angry viewers immediately took to Twitter bashing NBC and suggesting a boycott of the network. Others called into their NBC affiliates to complain. And before the broadcast ended, announcer Dan Hicks issued an on-air apology of sorts, saying the omission was not meant to upset anyone and that the network was sorry to those who were offended. It wasn't nearly enough.
Today, NBC went one step further, releasing a statement:
"We are aware of the distress this has caused many of our viewers and are taking the issue very seriously. Unfortunately, when producing the piece - which was intended to capitalize on the patriotism of having our national championship played in our nation's capital - a decision was made by a small group of people to edit portions of the Pledge of Allegiance. This was a bad decision."
The network also said if disciplinary action is taken, it will be handled internally and not be made public.
The original Pledge of Allegiance, of course, did not include the words, "Under God." They were added by Congress in the 1950s. As a result, they are as much a part of our salute to our flag as the rest of the words in the pledge. And it boggles the mind that a bunch of morons at NBC can take it upon themselves to decide which part to include and which part to omit. Those responsible ought to be fired on the spot.
Here's my question to you: Why would NBC edit out part of the Pledge of Allegiance before the U.S. Open?
Interested to know which ones made it on air?
Dennis in Florida:
There is no logical or responsible reason why the Pledge of Allegiance would be edited, particularly by one of the three major networks. It seems like someone had their own agenda and those in charge let it slip by. It was obviously a very bad decision. However, in the statement they released, 'if disciplinary action is taken, it will handled internally and not be made public.' It sure seems that the whole thing is going to be covered up. This is corporate jargon for doing nothing.
Carol in Massachusetts:
It was jarring to me that they so blatantly cut it, paused and then continued without the 'under God' part of the pledge. Twice. I'm not hyper vigilant about this stuff, but it seemed an intentional editing job. Someone had an agenda. Very strange.
M.D.:
Keith Olbermann and Rachel Maddow must have been directing the show and figured most of the viewers came over from Fox News. Whatever the intent of the omission, it was a double bogey.
Lincoln:
The whole god "issue" has us quite divided as a nation. Why would we ever allow such language to exist in a pledge of our allegiance to our flag and to our nation? I, like millions of Americans, pledge no allegiance to any god, and many more millions of Americans who do believe in god do not ask me to pledge my allegiance to their god.
Larry in Denver:
Gosh they apologized for their stupidity. Is this major news? They wanted to be politically correct and incorrect at the same time. Good job, now let's move on to the important stuff. Where is Sarah Palin today?
Nardo:
It's because NBC has a liberal agenda, but conservative networks are called subversive. Funny how that works, Jack.
Gregory in Auburn, Alabama:
In the highly polarized, politicized air in America these days, the smarter move would be to avoid any pandering, either full or partial. This was partial pandering.
Jay:
Because God hates golf.
John:
I tried to answer your question Jack, but it was edited out.
Stephen:
Jack I'm speechless after reading this. I'm not surprised however; this country is in deep denial of its roots and I'm for starting over. Who owns NBC now by the way? Disgusting lack of respect for America.
Lisa in Shelton, Connecticut:
Had to be self-importance and a blatant disregard for consequences. Obviously choosing to air this patriotic clip met with NBC's approval though it remains (a) unclear who made the call to edit some of the spoken words twice, and (b) why NBC is hiding the newsworthy truth?
Pat in Michigan:
Wouldn't want "Under God" on the airwaves now would we, Jack ? Might anger some "other faiths" who could raise the price of our heroin - I mean oil.