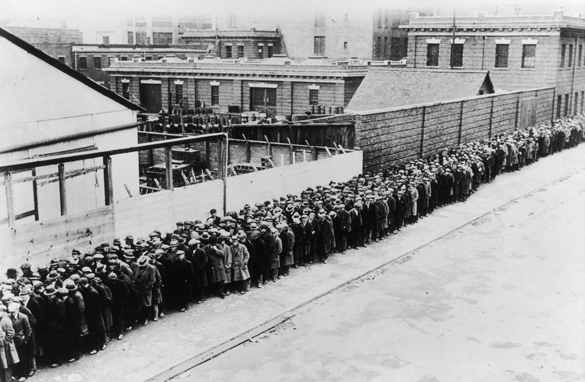 A long line of unemployed and homeless men wait in New York to get free dinner at the municipal lodging house during the Great Depression, circa 1930. (PHOTO CREDIT: GETTY IMAGES)
FROM CNN's Jack Cafferty:
Here's a sobering thought: A new report from Capital Economics describes the current housing market bust as, "larger and faster than the one during the Great Depression."
Since home prices peaked in 2006, prices have fallen an average of 33 percent. During the 1920s and '30s, home prices dropped 31%.
Analysts point out one of the reasons we're in worse shape today is that the boom that came before the dramatic downturn was unlike anything this country saw in the years leading up to the Great Depression. This time around millions more Americans had access to the housing market, and many of those people wound up buying homes they couldn't afford despite having bad credit, or putting little or nothing down.
Foreclosures were down last month, but that may say more about the banks than the people who can't pay for their homes. Banks have been having trouble selling the homes they've already repossessed, so there's little incentive for them to continue the pace of foreclosures.
Additional data out in the last few weeks show nationwide prices are at their lowest level since 2002. What's more, almost one-quarter of all homeowners are underwater, meaning they owe the bank more than their home is worth.
A recent CNN-Opinion Research Corporation poll found that 48% of Americans believe another Great Depression is likely to occur in the next year. Sadly, for a lot of people, it already has. There is a bright spot in all of this. It's a great time to buy a home with rock bottom prices and mortgage rates near historic lows. The problem is so few of us can afford one these days.
Here's my question to you: What does it mean that the housing crisis is now worse than the Great Depression?
Interested to know which ones made it on air?
Steve in Virginia:
During the great Depression there were far fewer people living in housing that they couldn't afford or living beyond their means. And I bet you could count the number of credit cards issued on one hand. Today's situation was created by the banks, mortgage companies and people who wanted to live the big life before they earned it.
Pete in Georgia:
Can you say "House of Cards"? Our obsession of everyone owning a house at any cost is what led us into the current disaster. Unscrupulous, dishonest, immoral lending, backed by the same kind of Congress that led America off the cliff while padding the pockets of bankers, brokers, and politicians. Sad and pathetic.
Fred in Los Angeles:
It means this President and his fellow Democrats have failed! The Federal Government can't spend its way to prosperity. I'd like to trade all these clunkers in.
Ralph:
Government's proper place is to be a referee between big business and the consumer, like in a prize fight. Remove the government by excessive deregulation and in come the crooks with their no money down home loans, etc. When they deregulated and did variable rate mortgages (like a stock margin call in 1929) it was predictable. This didn't just happen. It was created by bad presidential/Congressional management.
Renee in Peoria, Illinois:
It means those responsible were not held accountable. Those who fail to learn from history are doomed to repeat it. We have learned nothing and Wall Street has doomed us.
Tom in Canandaigua, New York:
Bankers were more moral in the first depression. They had personal pride and a respectable image they maintained. Today's Wall Street thought that Graham and Bush would let it get away with anything, and they did. Regulations and safe guards have been stripped away to make theft legal.
David in Florida:
I don't know what it means. I just want a list of soup kitchens in my area!!