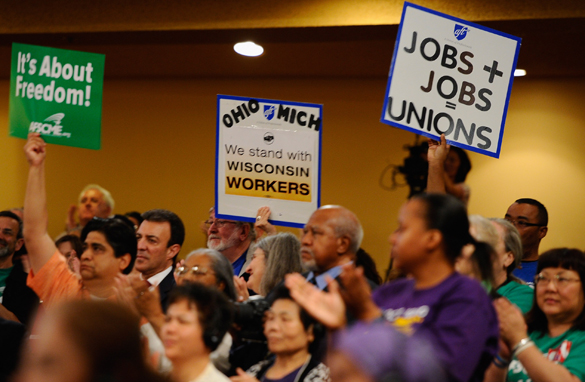 (PHOTO CREDIT: GETTY IMAGES)
FROM CNN's Jack Cafferty:
Wisconsin's Supreme Court ruled Tuesday that a law that limits the collective bargaining rights of most state employees does not violate the state constitution. It's a major victory for Republican Gov. Scott Walker. The decision limits the ability of most of the state's public employees to bargain over their wages. Raises now will be limited to inflation unless voters approve other pay increases. Also, public employees will be required to contribute close to 6% of their salaries to their pensions and pay more than 12% of their health care premiums.
Thousands of union backers camped out in the Wisconsin Legislature earlier this year in an attempt to stop a vote on the measure. Fourteen Democratic state senators fled the state, and their duties as elected officials, in support. But the measure passed anyway.
The collective bargaining ruling in Wisconsin is yet another sign that organized labor is losing its power in this country. In a very different case in Seattle, the National Labor Relations Board on behalf of the machinists union is alleging aircraft maker Boeing moved jobs from union factories in Washington state to a new nonunion plant in South Carolina in order to save money. The NLRB says Boeing moved to South Carolina to get back at unionized workers in Washington who have previously gone on strike. The NLRB wants to limit Boeing's growth to Washington state. Boeing and the South Carolina politicians disagree and call the case an attack on job creation.
It's a hard sell to defend these unions in such a tight economy. We've got a 9.1% unemployment rate in this country.. Many Americans haven't gotten a raise in years. Others have seen their hours cut back and are making less today than they were a few years ago. In this economy, you have to wonder if these unions can ever regain the power they once held.
Here's my question to you: What does the future hold for organized labor?
Interested to know which ones made it on air?
Alex in New York, New York:
Unions need to globalize. Labor is now a global market and, unless unions can expand their reach to affect the global market for labor, nothing they do here in the U.S. will result in anything except more jobs lost overseas.
Marcelo in Los Angeles, California:
Unions are outdated, plain and simple. Our country has so many fair labor laws in place to protect the American worker; today's labor unions are tantamount to cutting off your own hand to spite your arm.
Richard in Oak Harbor, Washington:
Corporate executives have betrayed the workforce that made them successful. Outsourcing American jobs to developing nations is an effective union busting strategy. Without jobs to unionize, there is no future for labor unions.
Dave in Herndon, Virginia:
Hard to say. If the Republicans gain power, organized labor is done, along with living wages, access to healthcare and the little things, like hope.
Dale:
Just as after the Great Depression when the unions were needed to save the lives of the working poor, the unions will be necessary to save the lives of the working poor because of the current great depression.
Paul in Nova Scotia:
If what is going on up here in Canada is any indication, they are self destructing. I believe that organized labor should start to redefine themselves in order to match up with the times. The old way is done. Our Postal Union is about to become a thing of the past because they don't have the smarts to see the handwriting on the wall and bargain with some sense.
Jeff in Bishop, Georgia:
Mr. Cafferty, I have no issue for or against unionization for the private sector, but I hope the organized labor in the public sector becomes as obsolete as Anthony Weiner's soon-to-be irrelevant political career.
Mark in Oklahoma City:
Jack, your question is sort of a moot point. How can we form unions around jobs that don't exist?