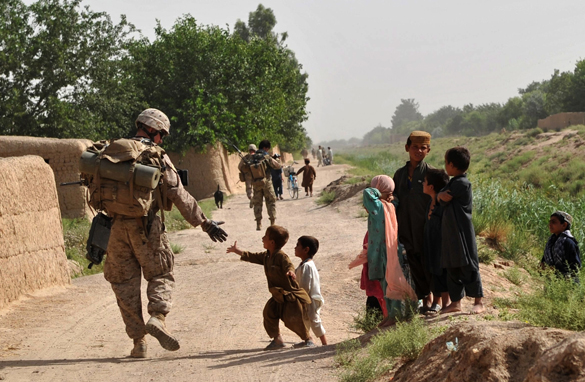 (PHOTO CREDIT: MASSOUD HOSSAINI/AFP/Getty Images)
FROM CNN's Jack Cafferty:
As the calls for a quicker U.S. withdrawal from Afghanistan get louder in Washington, an interesting story appeared in the British paper, The Guardian. The paper reports that U.S. and Afghan officials are in secret talks over a long-term security partnership between the two nations.
If this is the case, such a deal could put U.S. troops and other special forces and personnel in Afghanistan for decades. The Guardian reports these talks have been under way for more than a month. A U.S. official denies The Guardian report and said there are no plans for a permanent base in Afghanistan. We'll see.
The withdrawal of troops from Afghanistan is supposed to begin in July. And President Obama is planning to release his plan soon on how many of the more than 100,000 U.S troops in Afghanistan will come home as the withdrawal begins. More than two dozen senators sent a letter to the president today calling for a "sizable and sustained reduction" of military forces in Afghanistan.
The U.S. is involved in four wars right now. Even though the White House - in trying to clear the president of any wrongdoing under the war powers resolution - argues that the U.S. military action in Libya doesn't amount to full-blown "hostilities." But we're spending money on these operations, we're engaging in military action, and we're putting military lives at risk. And we're stretched pretty thin.
Here's my question to you: How would you feel about the U.S. maintaining a military presence in Afghanistan for decades?
Interested to know which ones made it on air?
Karl in Flint, Michigan:
My idealistic side doesn't like the idea, but my realistic side says somebody has to babysit those clowns since we depend on oil from the region and stability has to be maintained to support oil company profits. If we ever replace fossil fuels with more sensible alternatives then we can leave the Middle East to continue their never-ending wars. Until then, we are pretty much stuck.
Chandler in Rockaway, New Jersey:
Jack, what else is new? We've had a base in Cuba since the Spanish American war (1898). We've had troops in Germany and Japan since the end of WWII (1945). Our ally South Korea is still technically at war with North Korea, and yup, we've still got troops there. We are going to have soldiers in Iraq and Afghanistan forever.
Gerry in Ash Fork, Arizona:
Western democracy doesn't have a chance against a thousand years of warlords. We should bail out and cut our losses. The Muslim mentality will never grasp the concept of democracy as the Quran will never permit it. If ever there was a situation of throwing money down a rat hole this is it. Not to mention the loss of American lives.
Jerry:
The U.S. military should get out of Afghanistan immediately. The only difference between staying there for 20 years or 20 more minutes is the number of dead military and civilians. It is an exercise in futility. Bring the troops home. While we are at it how about a total withdrawal from Iraq? Korea? Europe? Bring them home and put them on the border with that failed state Mexico.
James in Americus, Georgia:
Personally, I am tired of the U.S. military being used as a "police force" around the world. While I fully support our military, I think our reach has exceeded our grasp. Afghanistan is one of several countries who seem to be in a perpetual state of war. What makes us believe we can fix their problems?
Rick:
That would be an idiotic idea, actually.