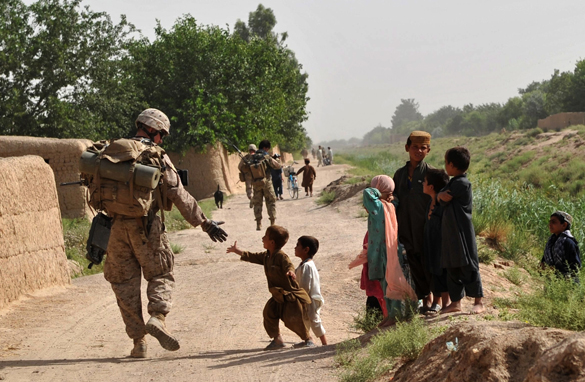 (PHOTO CREDIT: MASSOUD HOSSAINI/AFP/Getty Images)
FROM CNN's Jack Cafferty:
As the calls for a quicker U.S. withdrawal from Afghanistan get louder in Washington, an interesting story appeared in the British paper, The Guardian. The paper reports that U.S. and Afghan officials are in secret talks over a long-term security partnership between the two nations.
If this is the case, such a deal could put U.S. troops and other special forces and personnel in Afghanistan for decades. The Guardian reports these talks have been under way for more than a month. A U.S. official denies The Guardian report and said there are no plans for a permanent base in Afghanistan. We'll see.
The withdrawal of troops from Afghanistan is supposed to begin in July. And President Obama is planning to release his plan soon on how many of the more than 100,000 U.S troops in Afghanistan will come home as the withdrawal begins. More than two dozen senators sent a letter to the president today calling for a "sizable and sustained reduction" of military forces in Afghanistan.
The U.S. is involved in four wars right now. Even though the White House - in trying to clear the president of any wrongdoing under the war powers resolution - argues that the U.S. military action in Libya doesn't amount to full-blown "hostilities." But we're spending money on these operations, we're engaging in military action, and we're putting military lives at risk. And we're stretched pretty thin.
Here's my question to you: How would you feel about the U.S. maintaining a military presence in Afghanistan for decades?
Interested to know which ones made it on air?