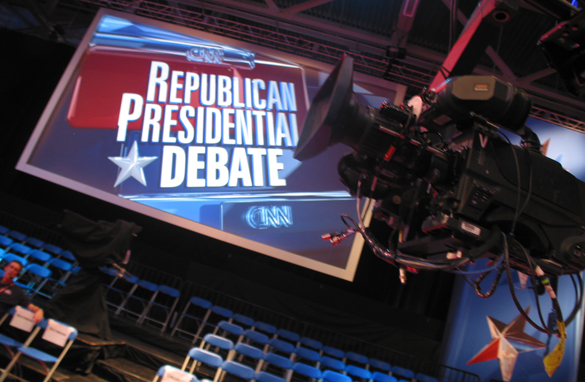 The hall at Saint Anselm College in Manchester, New Hampshire is nearly ready for the first CNN Republican Debate. (PHOTO CREDIT: Bryan Monroe/CNN)
FROM CNN's Jack Cafferty:
We're about 17 months away from the 2012 presidential election. A handful of Republican hopefuls have already declared they will challenge President Obama, a few others have indicated they will do so in the coming weeks.
If unemployment doesn't come down and people don't start to feel more optimistic about their future, the GOP's biggest challenge will be to avoid snatching defeat from the jaws of victory.
Tonight seven Republican presidential hopefuls will debate in New Hampshire, live on CNN starting at eight o'clock. We're likely to hear a lot about the sad state of the economy, how President Obama has failed at job creation, why this country is so deep in debt, and how each of these men and women think they can change things. There will be promises of no new taxes, and steep cuts to government spending. Mitt Romney, who has emerged as the early frontrunner in the field, will have to defend attacks over the universal health care law passed in Massachusetts when he was governor. And Newt Gingrich will try to convince voters he's serious about running after most of his staff abruptly quit late last week.
This is just the second in a series of debates scheduled for Republican hopefuls. The characters will likely change over the months - Jon Huntsman, Sarah Palin, Rudy Giuliani and Rick Perry are all possible additions in the coming weeks. The issues, however, are likely to remain pretty much the same.
Here's my question to you: What do you want to hear from Republicans at tonight's presidential debate?
Interested to know which ones made it on air?
Abby in Texas:
Clear, rational, thoughtful, intelligent, common sense, and compassionate solutions to America's problems without the Bible-thumping, self-serving, righteous right wing rhetoric. Something more than big government bad, small government good. I really doubt we'll hear anything close to that.
David in Alexandria, Virginia:
In a word, Jack: Moderation. In a couple more words: Positive vision for the future and a plausible path to get there. I'm so tired of the left 15% of the country and the right 15% of the country firing ideological artillery shells at each other over our heads.
Kevin in California:
Their plan to return the wealth of the middle class back to the middle class from the upper one percent. Their plan to increase exports. How their Christian family values square with eliminating Medicare, Medicaid and Social Security.
Claudia in Houston:
I'd like to hear what jobs were created by extending the Bush era tax cuts for another two years before they start debating about what jobs Obama hasn't created.
Chris in New Jersey:
I want to hear their plans to really change the structure of our government. Particularly, Ron Paul needs to get vocal about the fair tax and abolition of the IRS. The biggest thing the GOP needs is someone who can explain the original intent of the Founding Fathers and how this country was run for 200 years when the federal government was extremely limited in size and most of the governing was done at the state level.
Mark:
I would like for each candidate to be asked what sources their contributions come from. Are they financed by corporate and special interests or by private donations?
Greg in Arkansas:
Less criticism. Fewer slogans. A couple of new, practical ideas, preferably with some details, to fix the problems in our country that will benefit all of the American people, not just the voters that they agree with.
Stacy in St. Augustine, Florida:
This cast of clowns is the best that we can do. We apologize America. Check back in 2016.