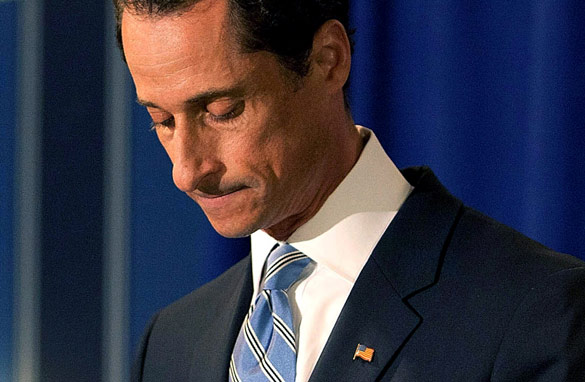 FROM CNN's Jack Cafferty:
Some people just don't know when it's time to leave. For disgraced congressman Anthony Weiner it's past time. But he insists he's not going anywhere, that he has no intention of resigning. My guess is he's going to change his mind about that, and soon.
A couple of late developments: Conservative blogger Andrew Breitbart says he's got another X-rated picture of Congressman Weiner. But he says he's not going to release it just yet. The morning papers in New York are full of explicit text messages. Disgusting stuff more appropriate for a drunken college frat boy that a member of the United States Congress. Yesterday we learned his wife is pregnant with their first child. On the scale of creeps from one to ten Congressman Anthony Weiner is an eleven.
Weiner arrogantly told a reporter from the New York Post today that while he is aware he betrayed many people, he's not giving up his job. Instead he said he is now trying to get back to work to, quote "make amends to my constituents, and of course to my family."
A Democratic source who spoke with Weiner told CNN that Weiner's digging in his heels because he says his wife wants him to stay in Congress. She would probably prefer he be anywhere at this point except at home.
But the sharks are in the water in Washington. Many of Weiner's colleagues want him gone, including a growing number of members of his own party. Senate majority leader Harry Reid says he won't take his calls. Senator Patrick Leahy, Democrat from Vermont and the second most senior member of the Senate, today called for Weiner to quit.
Leahy joins fellow democrats Senator Mark Pryor of Arkansas and Congresswoman Allyson Schwartz of Pennsylvania and a list of House Democrats who say Weiner must go.
I wonder if Las Vegas has the over and under on Weiner making it through the weekend. My guess is he's gone by Monday, but we'll see.
Here's my question to you: Why won't Rep. Weiner do the honorable thing and resign?
Tune in to the Situation Room at 5pm to see if Jack reads your answer on air.
And, we love to know where you're writing from, so please include your city and state with your comment.