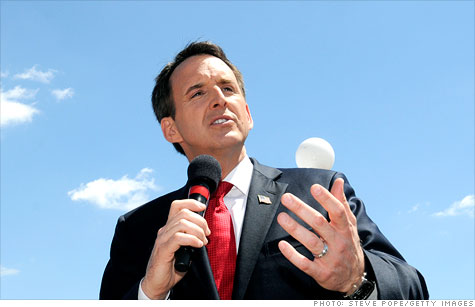 FROM CNN's Jack Cafferty:
It's been about two weeks since Former Minnesota Governor Tim Pawlenty formally entered the Republican presidential race. So far, he's talked bluntly and forcefully, but not very specifically, about issues like gradually raising the retirement age for Social Security, overhauling Medicare, and phasing out ethanol subsidies. But yesterday, in what's being called his first major policy speech on the economy, Pawlenty talked specifics, calling for a "simpler, fairer, flatter tax system" and major cuts to federal spending.
He proposed reforming the individual tax code to have just two rates: 10 percent for the first $50,000 of income, $100,000 for married couples, and 25 percent for higher incomes. He said that would allow lower and middle income families to save more by being taxed at a lower rate, and would spur investment and job creation by cutting the top rate. His plan would also end the capital gains tax, interest income tax, dividends tax, and the estate tax. He'd also cut the business tax rate from 35 percent to 15 percent.
But Pawlenty didn't just talk taxes-he also called for major spending cuts to many government services. In fact, he suggested if you can find a private sector product or service on the internet, then the federal government doesn't need to be doing it. Not a bad idea.
Critics are already calling the proposals "unachievable." But it's a more ambitious and specific plan than what we've heard from any other potential Republican candidate.
Here's my question to you: Tim Pawlenty wants only two income tax brackets, 10% and  25%.  Good idea?
Tune in to the Situation Room at 6pm to see if Jack reads your answer on air.
And, we love to know where you're writing from, so please include your city and state with your comment.