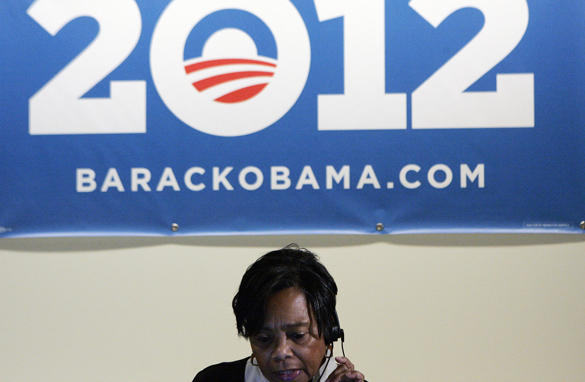 A volunteer receptionist answers a phone call at President Obama's re-election headquarters in Chicago. (PHOTO CREDIT: GETTY IMAGES)
FROM CNN's Jack Cafferty:
The continuing struggles of the U.S. economy are becoming a big problem for President Obama and his campaign for re-election in 2012. Economic reports show an unwelcome slowdown in what had been a few months of encouraging job growth, as well as new lows for home prices.
The president's top economic adviser, Austan Goolsbee, is leaving, the latest in a string of top economic minds the president recruited after his election who have abandoned ship.
A Washington Post-ABC News poll out today says about six in 10 of those surveyed give the president poor marks on the economy and the deficit. Nearly half say they strongly disapprove of the way he's handling both issues. And the same poll found that if the election were held today President Obama would lose to Republican Mitt Romney.
Romney, who is far from an overwhelming favorite among members of his own party, has said jobs and the economy will be central issues in his campaign.
Democratic strategist James Carville - who first coined the phrase "It's the economy, stupid" back in 1992 - says if job creation stays down the 2012 race could be "very rough" for President Obama. He said the economy is so bad, there's heightened risk of civil unrest in this country.
For now, there's little the president can do short term other than try to say the right things on the campaign trail. Reducing the deficit and cutting spending are top priorities on Capitol Hill, but so far nothing has been done.
Rising gas prices and declining home prices are crimping consumer spending. So expect to hear the president highlight the modest gains in the economy since the worst days of 2008 and 2009. Strategists say he'll also make the case that things would be far worse if Republicans were in charge.
But if that's all he's got, it's not going to be enough.
Here's my question to you: How will the economy force President Obama to change his campaign strategy for 2012?
Interested to know which ones made it on air?
Pat in Idaho:
I don't think Obama can do anything to change his campaign strategy at this point. He made his bed, now he has to sleep in it. He's done.
Mark in Arkansas:
No American President has been reelected with unemployment over 9%. IF Mr. Obama hopes to break this record, he needs to stop touting meaningless success "snippets," and start making meaningful changes in our economy. Start first by throwing the Wall Street Bankers in jail.
Adem in Oakland, California:
The resignation of his economic adviser indicates that his economic policy has done little to improve the economy, despite the bailouts and QE2 (printing money). However, he's in a good shape for reelection as long as his republican opponents keep missing 4th grade history questions.
Rich in Texas:
Jack, this election cycle Obama will have no president Bush to blame for the economy. Obama owns it now. He ran for president and won therefore he is responsible for the economy, warts and all. The hard sell to the American people is that when he took office we had a national debt of $10 trillion. Now that debt is over $14 trillion in just 2 years. When Bush left office the unemployment rate was 7.2 percent and now 2 years later it is over 9 percent. Gasoline when Bush left office was $1.83 per gallon today it is over $3.50 cents per gallon. The numbers do not lie. There is no fairy tale that Obama can spin to explain his failure to grow the economy.
Brian in San Diego:
It will force Obama to make his case by focusing more on how much worse things were when he took office, rather than any obvious signs that the salad days have returned. Unfortunately, while true, this will be far more difficult; "things were worse" is a much harder sell than "things are good now."
David in Alexandria, Virginia:
He should rewrite his campaign slogans to read : "No Change, No Hope, No Kidding, We're Broke"