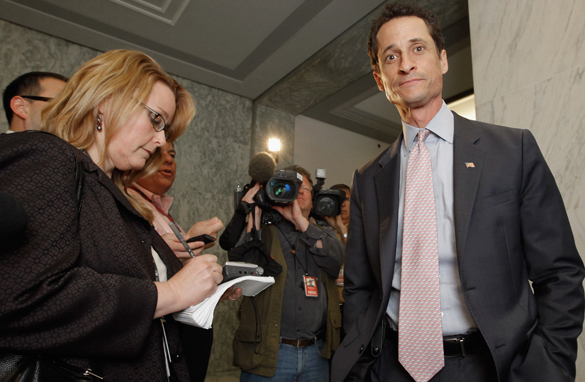 Rep. Anthony Weiner (D-NY) encounters a group of reporters as he leaves his office. (PHOTO CREDIT: GETTY IMAGES)
FROM CNN's Jack Cafferty:
Watching Wolf' Blitzer's interview with Congressman Anthony Weiner yesterday was sort of like watching one of those Buddhist monks set himself on fire. You feel bad for the guy, but it's impossible not to watch it.
Weiner has spent a lot of time trying to talk himself out of a hole over the past few days, but the hole may be getting deeper.
The incident in question - a lewd photo sent from Weiner's Twitter account to a female college student that went out to 45,000 other people as well - was bad enough. But watching the way Weiner's been handling the media circus surrounding it is even worse. And it could kill his career.
Maybe he should take a lesson from New Jersey Governor Chris Christie. Yesterday we reported Christie flew a state helicopter to his son's baseball game. Bad move for a budget conscious guy many hope will run for president. But today he admitted he made a mistake and said he'll pay for the cost out of his own pocket - $2,500. Chances are he won't do that again and the story now will go away.
For Weiner, that's not happening.
Prior to what's now being called Weinergate, the congressman, an outspoken but articulate liberal, has been rumored to be considering a run for mayor of New York City in 2013. The events of the past week could endanger that.
Weiner represents a district in Queens and Brooklyn that traditionally votes Democratic. Last year, he faced his toughest battle for re-election in his 13-year congressional career, winning just 59 percent of the votes. In all previous races, he won more than 66 percent of the votes.
Of course, a run is still two years off, and a lot can happen in politics - and political scandals - in that time.
Here's my question to you: Can Rep. Anthony Weiner survive Weinergate?
Interested to know which ones made it on air?
Ed in Harrisburg, Pennsylvania:
I like Anthony Wiener. However, if he really didn't do it, why doesn't he simply deny it and turn it over to law enforcement? He has said he is hiring a firm to determine whether to turn it over to law enforcement. I have been victimized on the internet and have immediately turned it over to law enforcement with astoundingly good results. I would like to continue to like Anthony Weiner because I have always found him forthright and direct. But now he is squirrely and circuitous, leading me and others to think he's not such a straight arrow.
Donald in California:
I'm a fan of the congressman, but his mumbling with this issue doesn't pass the smell test. First time I have seen him at a loss for words.
Kathie:
Given his avoidance of any clear answer and his arrogance, his downfall is imminent.
Susan in Denver:
Nope. If he had flatly denied it several days ago and then shut up, he might have had a chance. But the more he talked, the worse he looked, and I now believe he's toast.
M. in Austin:
Of course he will survive this. I don't know if I can though. The endless sea of news media reporting over stupid stuff annihilates all reason. Palin taking a bus ride– who cares what she does? A picture of a man in briefs - How sexually repressed are we as people where anything concerning genitals gets this kind of coverage?
Josh in New York:
There is only a Weinergate because you are all covering it as such. Compare to Schwarzenegger; we know that's a scandal because there's an actual kid who was born. Or Larry Craig; the guy was arrested by an actual cop. What is the core fact in the Weiner case? He says he didn't send he picture. She says she didn't receive the picture. Where is the transgression? I can't find one. How about fewer questions about who's crotch is in the photo, and more, you know, journalism?