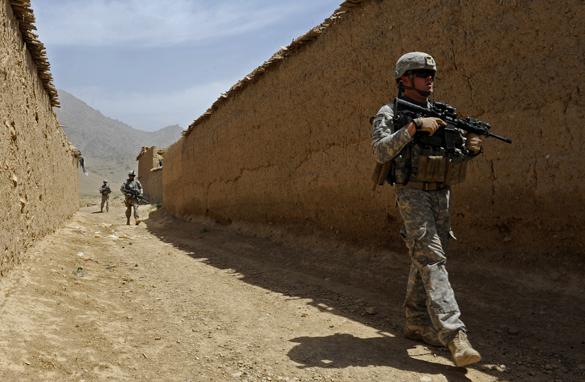 (PHOTO CREDIT: Brian Ferguson/U.S. via Getty Images)
FROM CNN's Jack Cafferty:
It's coming up on 10 years since we went to war in Afghanistan. The stated purpose at the time was to get Osama bin Laden and the rest of al Qaeda who had attacked us on 9/11. Bin Laden is dead now, and we're still fighting and dying in Afghanistan. The U.S. death toll recently passed 1,500.
In a speech in December 2009, President Obama announced he would begin the withdrawal of U.S. troops in Afghanistan in July 2011. Well, a year and a half has passed, July is almost here, and Americans are waiting to hear his plan.
And pressure is mounting from some unlikely places. House Democrats are becoming more vocal on Afghanistan, pushing for an accelerated withdrawal plan and, according to Politico.com, asking the president to go after a settlement with "all interested parties" to speed up the process. That includes the Taliban.
Only 37% of military members approve of the job President Obama is doing compared to a 48% job approval from Americans who have not served in the military.
We're still in Iraq. We were told we would be in Libya for a matter of a few days; that was more than two months ago.
Afghanistan has never been conquered. Russia gave up after seven years. And everyone else who has ever tried has eventually been forced to leave with their tails between their legs. The Karzai government is a joke, ineffective and corrupt. The schools in Afghanistan openly teach young children how to hate the United States. The population can't read, but they're taught how to hate our guts.
Here's my question to you: When it comes to the war in Afghanistan, how much is enough?
Interested to know which ones made it on air?
Mark in Oklahoma City, Oklahoma:
Jack, we went way past "enough" a long time ago! When will these "nation-building idiot leaders" of ours ever realize that we cannot force democracy on a culture that does not even comprehend the concept? Over 6,000 Americans lost in that region of the world. For what?
Gary in Woodhaven, Michigan:
Of all the ideological wars we have gotten ourselves into since Korea, none have been worth one American life or one life of those whose homes we have fought in. Ideology and promoting our way of life on those who do not wish it will always end in failure, because there can never be any definition of winning.
Jim in Reno, Nevada:
Afghanistan played willing host to the vermin that launched the 9/11 attacks. If we leave prematurely, al Qaeda will return to Afghan safe havens. When Afghanistan has the ability and the political will to fight the terrorists and defeat them, or at least keep them in hiding, then we can leave.
Lori in Pennsylvania:
Wasn't getting Bin Laden the whole point of Afghanistan? Now that we've done that, isn't it time to bring the troops home? The money we'd save could be put towards bringing down the deficit. It could also be used to help those hit hard by the natural disasters that have occurred over the past few months. Whatever action government decides to take, it needs to be one that only is of benefit to the U.S.
Annie in Atlanta:
It's time you in the media tell it like it is, it will be enough when the Military Industrial Complex that Eisenhower warned us about say it's enough, and not a moment before. And as long as there's money to be made, it will never be enough. Greed is the name of the game, no matter the cost.
M.D.:
It has been "enough" for years. If you "conquer" it, what do you do with it? At times, we don't seem capable of running our own country. Let the Afghan people work their way into this century.