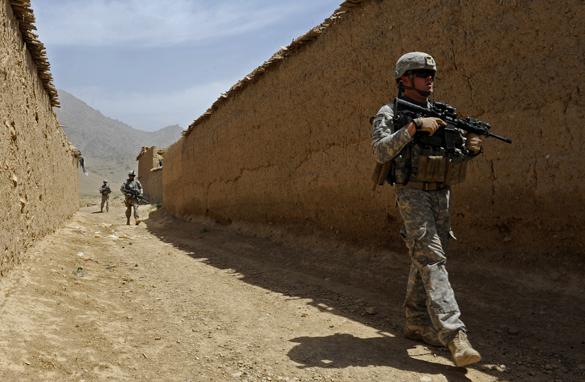 (PHOTO CREDIT: Brian Ferguson/U.S. via Getty Images)
FROM CNN's Jack Cafferty:
It's coming up on 10 years since we went to war in Afghanistan. The stated purpose at the time was to get Osama bin Laden and the rest of al Qaeda who had attacked us on 9/11. Bin Laden is dead now, and we're still fighting and dying in Afghanistan. The U.S. death toll recently passed 1,500.
In a speech in December 2009, President Obama announced he would begin the withdrawal of U.S. troops in Afghanistan in July 2011. Well, a year and a half has passed, July is almost here, and Americans are waiting to hear his plan.
And pressure is mounting from some unlikely places. House Democrats are becoming more vocal on Afghanistan, pushing for an accelerated withdrawal plan and, according to Politico.com, asking the president to go after a settlement with "all interested parties" to speed up the process. That includes the Taliban.
Only 37% of military members approve of the job President Obama is doing compared to a 48% job approval from Americans who have not served in the military.
We're still in Iraq. We were told we would be in Libya for a matter of a few days; that was more than two months ago.
Afghanistan has never been conquered. Russia gave up after seven years. And everyone else who has ever tried has eventually been forced to leave with their tails between their legs. The Karzai government is a joke, ineffective and corrupt. The schools in Afghanistan openly teach young children how to hate the United States. The population can't read, but they're taught how to hate our guts.
Here's my question to you: When it comes to the war in Afghanistan, how much is enough?
Interested to know which ones made it on air?