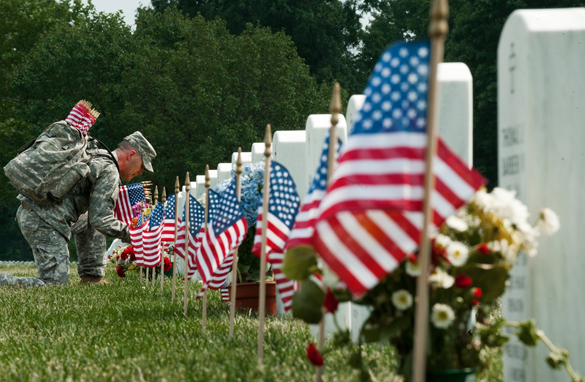 An Army colonel places a flag at the foot of a military member's gravestone in Arlington National Cemetery. Placing of flags is part of the traditions celebrated for the Memorial Day national holiday. (PHOTO CREDIT: PAUL J. RICHARDS/AFP/GETTY IMAGES)
FROM CNN's Jack Cafferty:
As the Memorial Day weekend approaches, I got to wondering what those who gave their life for this country would think if they could see us now.
We don't remember those folks like we probably should. There will be parades here and there… but many of us will head for the malls, the beaches, and the barbecues. Little more than a passing thought will be given to the men and women who made the ultimate sacrifice so we can continue to do those things.
As we head into another summer, the nation is broke and fighting three wars.
The federal government is broken, maybe beyond repair.
We passed the debt ceiling and nothing has been done. When we approach default in August, will anything be done then?
Another election campaign is starting. More empty promises and mud slinging designed to suck us in one more time to the belief that this time, somehow, it's going to be better.
It isn't and it probably won't be, but when you look around, it's still the last, best chance on earth.
At least for awhile longer.
Here's my question to you: As the Memorial Day weekend approaches, how do you feel about your country?
Interested to know which ones made it on air?
Karl in Flint, Michigan:
I remember growing up in a small town near here and we had a Memorial Day parade every year. There was a marching band, which I did in high school, and VFW and American Legion groups. There were Blue Star Mothers and sheriff deputies on horseback. We started at the train station on one end of town and marched to the cemetery at the other end with packed crowds all the way. There we remembered our fallen. Now there isn't money for that and the meaning of Memorial Day is lost.
David:
It's like my house has been burgled by bankers, the cops won't respond and the insurance company says that nothing is covered.
Valerie in Raleigh, North Carolina:
The speech given in England by President Obama summed up my feelings for this country. He said that we are a good and decent people who always try to do the right thing. That is a perfect definition of America.
S.P. in Kansas City, Missouri:
I look at America as I would look at a relative in a hospital bed, suffering from what is probably a terminal disease. The illness is disturbing, the doctors appear to be incompetent, yet the relative keeps chugging along. I am pessimistic, and don't hold out a lot of hope; but this is a relative I know and love. As long as he is breathing, he has my love and support.
Richard in Malvern, Pennsylvania:
Memorial Day has become the 'come over to my place for a bar b q and lets get drunk' day. How sad is that! This is a great country, made so by those that have defended it. The politicians have done their best to suck the American spirit out of all of us. They are the problem. I am proud to be an American, I salute the flag, and served this country in the military. My only desire is that America take care of Americans first and then worry about others. Doing that will instill pride in all of us, once more.
Tom in DeSoto, Texas:
Bin Laden's dead and Palin won't be president. Yea, I feel good.