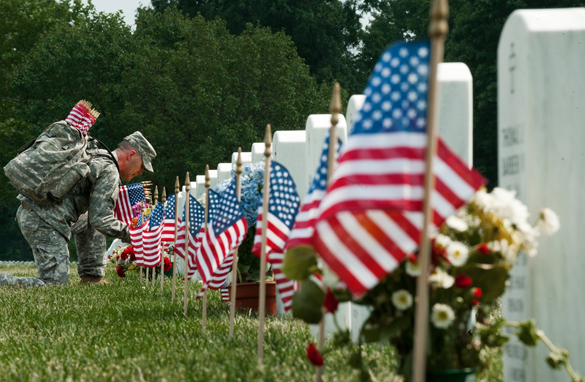 An Army colonel places a flag at the foot of a military member's gravestone in Arlington National Cemetery. Placing of flags is part of the traditions celebrated for the Memorial Day national holiday. (PHOTO CREDIT: PAUL J. RICHARDS/AFP/GETTY IMAGES)
FROM CNN's Jack Cafferty:
As the Memorial Day weekend approaches, I got to wondering what those who gave their life for this country would think if they could see us now.
We don't remember those folks like we probably should. There will be parades here and there… but many of us will head for the malls, the beaches, and the barbecues. Little more than a passing thought will be given to the men and women who made the ultimate sacrifice so we can continue to do those things.
As we head into another summer, the nation is broke and fighting three wars.
The federal government is broken, maybe beyond repair.
We passed the debt ceiling and nothing has been done. When we approach default in August, will anything be done then?
Another election campaign is starting. More empty promises and mud slinging designed to suck us in one more time to the belief that this time, somehow, it's going to be better.
It isn't and it probably won't be, but when you look around, it's still the last, best chance on earth.
At least for awhile longer.
Here's my question to you: As the Memorial Day weekend approaches, how do you feel about your country?
Interested to know which ones made it on air?