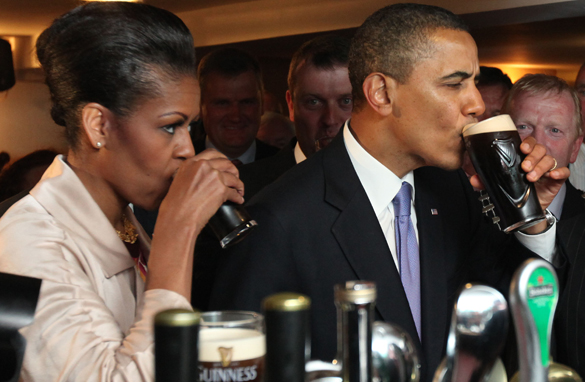 President Barack Obama enjoys a glass of Guinness in his ancestral home of Moneygall alongside First Lady Michelle Obama. (PHOTO CREDIT: GETTY IMAGES)
FROM CNN's Jack Cafferty:
Just a thought. And I know these trips are planned way in advance. But what message is conveyed by pictures of President Obama downing a pint of Guinness and laughing it up with the Irish people while the people of Joplin, Missouri, search through the wreckage of their lives for dead family members?
It's estimated 80 million people could be affected by the continuing threat of severe weather. It could impact cities like Omaha, Kansas City, Oklahoma City, Tulsa, and Wichita, Kansas… and yes, Joplin could get hit again. We have already experienced the worst tornado outbreak in the last 50 years.
Meanwhile we have airlifted the first family and the gang that travels with them to Europe for six days of hobnobbing with various heads of state, eating the finest foods and drinking the best wines while Mother Nature wreaks havoc on innocent people in America's heartland.
Remember Katrina and the pathetic response of the Bush administration to the utter destruction of the city of New Orleans? In the back of my mind, I can't help but think that voters remembered Katrina well when they stepped into the booth in 2008 and elected America's first African-American president.
Here's my question to you: What message is sent to the people of the Joplin, Missouri, by the president's trip to Europe?
Interested to know which ones made it on air?
Vinny in Connecticut:
It took Obama almost 2 months to go to the Gulf coast and view the damage from the BP oil spill. Now he's having a great time in Europe visiting his "cousins" and the Queen but promises he'll be visiting the sites of the tornadoes on Sunday. He's just so 'busy'; he'll probably need another vacation really soon!
Donna in Wisconsin:
Get a life, Jack! I am tired of you continually feeding the fires of negative thoughts on the President!! His trip was already scheduled when the tornado hit! Changing a Presidents itinerary is extremely difficult–not like you deciding to take a day off 'cause the weather is nice! So be real and stop the bashing!
Ed in Harrisburg, Pennsylvania:
I voted for Obama and like him a great deal. As proud of him as I was when he announced the Bin Laden justice, I am embarrassed with him being in Europe right now, especially with Prime Minister Netanyahu uttering the first words to AIPAC delegates when referring to Joplin, "America, we are with you!!!" Think about that!!!
Larry in Denver, Colorado:
The sad part of all this? No Republican can beat him and no one in his own administration would say "Mr. President, you really need to come home". Whether it was Bush reading a book during 9/11, or Katrina or Joplin, nothing changes.
Geoff in Missouri:
I author a blog for the Joplin Globe, called Caldwell's Corner and pen occasional editorials and columns. When I heard this morning Dear Leader was going to bless us with his presence Sunday I couldn't believe it. I had just watched last night the disconnect between Israeli Prime Minister talking off-script, giving support to America and Joplin in particular and the news of Obama searching for his "Irish roots" and the "perfect pint." My column today is quite negative of Obama and his decision to descend upon us as we dig out from the rubble and I will most surely catch flak for it. Just wanted to thank you for lending your national profile to a thought that many of us here in Joplin have been feeling all day.
Joe in New York, New York:
Wow, Jack. What a loaded question! Not getting enough negative Obama responses these days? He was already on his way over there when the Tornado hit. It's not like he headed off to Europe AFTER the tornado struck. I know he's a pretty good president, but it's not like he can wave a magic wand and make everything better just by being here. Weather permitting he'll be there Sunday. Keep your grumpy shirt on, Jack.