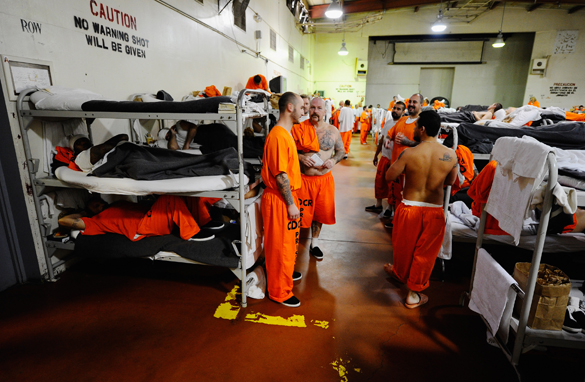 Inmates at Chino State Prison, which houses 5500 inmates, crowd around double and triple bunk beds in a gymnasium modified to house surplus prisoners. (PHOTO CREDIT: GETTY IMAGES)
FROM CNN's Jack Cafferty:
As if the cash-strapped state of California doesn't have enough problems to deal with, it now has to figure out what to do with tens of thousands of convicts who need to be moved out of the state prison system to comply with a new Supreme Court decision.
The Supreme Court upheld a lower court ruling on Monday that overcrowding is such a problem in California's prisons that the prisoners' eighth amendment rights - the ones that protect against cruel and unusual punishment - are being violated.
In a 5-to-4 decision, the Court ordered the state to reduce its prison population by more than 30,000 inmates.
The state will have two years to comply with the high court's order. Justice Anthony Kennedy, who voted in favor of reducing the overcrowding along with the court's 4 consistently liberal justices, stressed that the state had options other than just releasing the inmates onto the streets - like constructing of new facilities or transferring of prisoners out of state or to country facilities.
But that all costs money... and California is flat broke.
The secretary of California's Department of Corrections and Rehabilitation said today it hopes to comply with the court's ruling without releasing any prisoners.
That would be nice.
The state is looking into plans to shift low-level offenders to county jails and other facilities.
We're not talking about finding spots for 50 inmates throughout the state. We're talking about tens of thousands.
Here's my question to you: The Supreme Court has ordered California to release tens of thousands of prison inmates. Is that a good idea?
Tune in to the Situation Room at 6pm to see if Jack reads your answer on air.
And, we love to know where you're writing from, so please include your city and state with your comment.