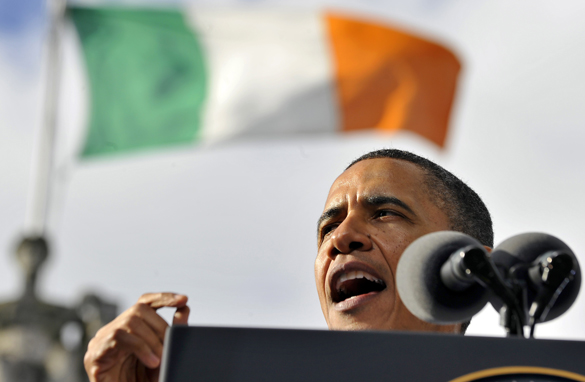 Pres. Obama speaks in Dublin on the first stop of a week-long European tour. (PHOTO CREDIT: JEWEL SAMAD/AFP/GETTY IMAGES)
FROM CNN's Jack Cafferty:
President Obama was in Ireland today, the first leg of a six-day trip to Europe. And as he travels to Britain, France and Poland, U.S. tensions with Israel and the overall instability of the Middle East will likely be a theme.
The president's still trying to navigate around comments he made in a speech last Thursday, suggesting peace talks between Israel and the Palestinian people should begin with the borders established before the 1967 war, in which Israel captured Gaza and the West Bank. Palestinians claim some of that land is theirs. President Obama's suggestion angered the Israelis and created an uncomfortable meeting between President Obama and Israel's Prime Minister Benjamin Netanyahu on Friday at the White House. Sticking with the pre-1967 borders has been a long-held, but not often-stated, U.S. position.
Yesterday, the president spoke before the American Israel Public Affairs Committee, Washington's most powerful pro-Israel lobbying group, in an effort at damage control. He reiterated that peace talks between Israel and the Palestinians should begin with the pre-1967 borders, but only as a starting point. Land swaps could eventually be part of the plan in order to be fair to both sides. Netanyahu is addressing the same group tonight.
President Obama has said he's trying to jump-start peace talks between Israel and the Palestinians to slow the growing momentum for a declaration of a Palestinian statehood at the United Nations in September. The president hopes to persuade his European counterparts to vote against it. But tensions between the two long-time allies remain high, and the rhetoric coming from Israel has gotten much sharper.
Here's my question to you: Is President Obama making U.S. relations with Israel worse?
Interested to know which ones made it on air?
Marilyn:
No, he's not. President Obama knows what he is doing. He is trying to get something going here between Israel and the Palestinian people. The fact that the Israeli Prime Minister went ballistic shows you he's not ready for peace talks. He only wants things to go his way.
Josh in New Orleans, Louisiana:
I think that Israel has been taking advantage of America's relationship to do almost anything they want against the Palestinians and Obama is calling them out on this. If anything is making the situation worse, it's the lack of compromise in the peace process.
Arp in Brandon, Mississippi:
It's about time someone in American politics spoke truth to power. The festering sore that is Israeli relations with its neighbors must be resolved if there is to be any hope of peace and stability in the region. So far, the U.S. has insulated Israel from having to face the ultimate reality of a Palestinian state. Israel will not change course unless forced to reassess what is in their best interests, and ours.
Ed in Maryland:
I think it's like telling the people of Arizona that we're going back to pre-Columbus borders. I can see where people might get upset.
Rob:
Perhaps the question needs to be framed differently: Is America better off for amending its policy with Israel? Do we consider Israel an ally? Sure. But hasn't the relationship been a little one-sided? We give and Israel takes. Other than the fact that Israel represents the lone democracy in the Middle East, what tangible benefits accrue to the U.S. over this relationship?
Lou:
Obama isn't going to coddle Israel like so many other politicians do. I think he is doing it for their own safety. With the uprisings in the region and Israel's friends growing smaller, the writing is on the wall for them. They have to come to the table before it's too late.
Bit in Prattville, Alabama:
Well, let's just wait and see, Jack. Since the world didn't come to an end Saturday, and President Obama didn't get the blame for it, there's still hope for U.S. and Israel.