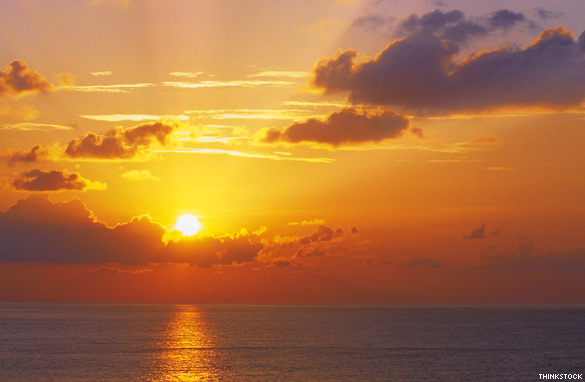 (PHOTO CREDIT: THINKSTOCK)
FROM CNN's Jack Cafferty:
If you believe the signs you see in a bus station or on a billboard, you're probably trying to pack a lot into the next few days.
According to a well-publicized campaign by a man named Harold Camping and his group, Family Radio, this Saturday is Judgment Day. On that day, about 200 million people, or just 3% of the world's population, will be taken to heaven, Camping believes. The rest of us will live in a world of chaos and catastrophe before the world comes to a complete end in October. Have a nice weekend.
Most people aren't buying Camping's claims, whether or not they believe in God or the second coming of Jesus or the afterlife. After all, Camping, an 89-year-old retired civil engineer, first predicted the world would end in 1994. Wrong. Now he's saying Saturday.
World-renowned physicist Stephen Hawking is one person who probably isn't too worried about doomsday predictions. Hawking said in an interview this week that he doesn't believe in an afterlife, and he said the notion of heaven is a "fairy story."
He told the British newspaper, The Guardian: "I regard the brain as a computer which will stop working when its components fail. There is no heaven or afterlife for broken-down computers."
Hawking has had a lot of time to contemplate life, death and this whole idea of heaven. At 21, he was diagnosed with ALS, Lou Gehrig's disease. It's a terminal illness that causes loss of mobility, and it severely impairs speech. He wasn't expected to live much past the diagnosis, but 49 years later, he's still here, writing books and going on speaking tours.
Here's my question to you: British scientist Stephen Hawking says heaven is a "fairy story." Do you agree?
Interested to know which ones made it on air?
P.M.:
I would rather believe in heaven than not believe. If I am right, there are good reasons to care about my behavior and the impact I have on the world around me. If I am wrong, I still will have lived a good life. Someday we'll find out who's right and who's wrong. Until then, I believe.
Jeremy:
Of course Stephen Hawking is going to say that. He's a scientist. Scientist's need "proof" of everything or else it doesn't exist. But you can't scientifically prove faith.
David in Oklahoma City, Oklahoma:
I tend to agree with Dr. Hawking. There is no evidence beyond the shaky anecdotal "near death" experiences of people. I'll go with the science and say I don't believe in Heaven, although I certainly wish that it was real.
Lisa in Shelton, Connecticut:
Here's proof that knowledge and wisdom are not the same. Hawking cannot prove his assertion and it is un-testable to humans so people will be stuck with accepting it blindly on faith. He asserts the universe was simply created by gravity but can't explain what created gravity. My faith is in God and Heaven, not in this guy.
David in Herndon, Virginia:
Nobody has any evidence one way or another.
Rebecca:
I agree with Stephen Hawking. I think that heaven is a made-up idea, but if the promise of heaven comforts those uncomfortable with death and compels them to lead better lives, then who am I to be against it?
Bizz in Quarryville, Pennsylvania:
Stephen Hawking is a genius with an extremely high IQ. He only believes in things that he can prove. I am a man who does not wear his religion on his sleeve. But I do believe there is a God because I have felt His presence in time of need. If there wasn't a God I do not think people would have a soul or conscience. I hope to get to meet Steven Hawking in the hereafter so I can tell him, "See I knew something that you did not know."