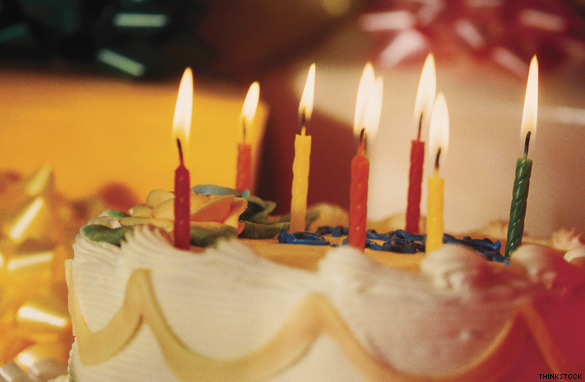 (PHOTO CREDIT: THINKSTOCK)
FROM CNN's Jack Cafferty:
To paraphrase Benjamin Franklin, the only certain things in life are death and taxes. Of course, one has always been a little easier to calculate than the other… until now perhaps.
A Spanish company has developed a blood test that it claims can give you a pretty good idea of how long you'll live.
The test, called Life Length, can allegedly convert your life expectancy to numbers, and will reportedly be available in Britain later this year according to the UK paper The Independent.
The simple blood test measures something on your chromosomes called telomeres which scientists say can help determine your biological age rather than chronological age. The shorter the telomeres are, the closer you are to death.
Researchers say the test can provide valuable information including a person's risk of illnesses such as heart disease, Alzheimer's and cancer.
Some scientists and medical ethicists have raised concerns that people who take the test will take on a fatalistic attitude and stray from healthy practices like eating right, exercising and quitting smoking. Critics also worry the information could be used by insurance companies as well as companies that could make and market fake anti-aging drugs and treatments.
But you can bet people will line up for the Life Length test as soon as it comes out. It will be sold over-the-counter in Britain for the equivalent of $700 U.S. dollars
Here's my question to you: Would you want to know how long you will live?
Interested to know which ones made it on air?
Robert:
Yes. I would love to know how long I have to live so I can put into perspective all the things I haven't done and start doing them!
Joyce in Marshall, Texas:
No, I'd then start worrying about what I couldn't do that I wanted to do. Seems to me, the best alternative is to live each day as if it's your last. It could be.
Sean in Michigan:
Only if the answer is "forever".
John:
Sure I want to know. And I'm ready to fork over the $700. And on the way home from the test, I'll probably get run over by a truck.
Paul in New Port Richey, Florida:
Sure. Then I would know how much scotch to buy before the prices go up again.
Sian:
Not everyone dies of natural causes or even disease, so what's the point as long as people are driving or shooting guns? PS there are ways to get around taxes, death is the only definite.
Dana in Montana:
No. For me the planning that might be a benefit of knowing would not make up for the loss of the hope and optimism I have not knowing.
Bud:
If I knew I had 3-5 years, I'd get a Turbo Porsche or Ferrari, check in to the Carlyle Hotel on a regular basis and not worry about a damn thing. Just enjoy the time left on the planet. Now some will say that this thinking is shallow and self-absorbed. Well, my answer is. You're exactly right.
Bizz in Quarryville, Pennsylvania:
I already know when I am going to die. It will be May 21 this year when the world ends. Thursday will be the last time I get to answer your questions, so it better be a doozy. Hope to get to meet you standing in line at the pearly gates.
John in Weaver, Alabama:
Jack, you're afraid to take the test because you might find out you died 2 years ago.
Ed in Port Jefferson, New York:
Ignorance is bliss. Enjoy.
Mike in Minneapolis:
If my wife found out I spent $700 dollars for this test I can tell you EXACTLY how long I would live.