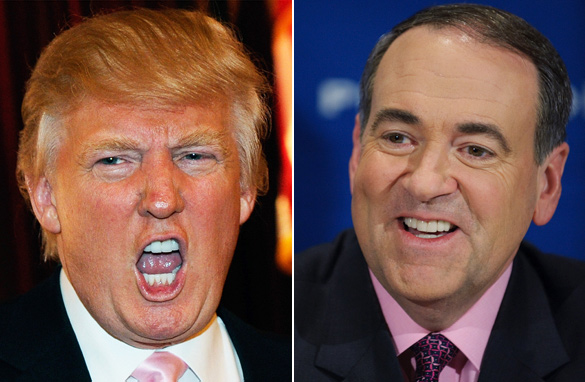 (PHOTO CREDIT: GETTY IMAGES)
FROM CNN's Jack Cafferty:
The Republicans may have the keys to victory in 2012 in their grasp, but it's a question of getting the horses out of the barn, onto the track and into the race.
So far, the Republican presidential field is awful. It's no wonder President Barack Obama is smiling. And it's not just getting bin Laden that has him grinning. The economy is starting to recover. And the Republicans resemble "The Gang That Couldn't Shoot Straight."
Former Arkansas Gov. Mike Huckabee and billionaire real estate developer-turned-reality TV star Donald Trump have both said they're out. Huckabee and Trump had shown more promise in the polls than some of the other names running or considering a run.
So, who will fill the void?
There is Mitt Romney - already lost. Newt Gingrich - not happening. Sarah Palin - please, get serious. There is Ron Paul, a man with great ideas about how to solve our problems, but serious questions about electability. Then there's Tim Pawlenty and Michele Bachmann, both with potential to score big with evangelicals, but neither seem to be scoring points with the rest of the electorate.
That brings us to Mitch Daniels, the governor of Indiana, who almost everyone agrees would be a formidable challenger to Obama. And New Jersey Gov. Chris Christie. Christie says he's not "ready to run for president," despite the fact that Republicans all over the country are begging him to get in the race. And Daniels, who says he hasn't made up his mind yet. Daniels also says he could beat Obama…and he might be right.
It's pretty much a lead-pipe cinch the rest of the Republicans mentioned can't, except maybe for Christie.
Here's my question to you: Who is likely to fill the void left by Donald Trump and Mike Huckabee in the 2012 GOP field?
Interested to know which ones made it on air?
B. in Indianapolis:
I believe that Mitch Daniels will announce within the next few weeks that he will run for the presidency in 2012. If he does, the Republican Party will come together behind his candidacy, as will moderate Independents. Daniels would be a challenge for Obama with his message of fiscal discipline.
Donnie in Bay St. Louis, Mississippi:
Ron Paul, Mitt Romney, and Tim Pawlenty, in that order, with Ron Paul the only one who might be able to win the Independent and undecided vote. A race between President Obama and anyone other than Ron Paul would be like watching grass grow. Although I would pay to see the Sarah Palin or Michele Bachmann vs. Obama debate. Talk about must-see TV.
Bob:
There is an entire brigade of lunatics still left. Give it a week and see. They will come out of the woodwork, some of them dumber than Palin or Bachmann. The GOP never fails to amaze.
Ann in Morgan Hill, California:
Chris Christie? Are you mad? The people of New Jersey cannot wait to get rid of him! Apparently the Republicans see something in him that no one in his own state sees. To them, he is another tea bagger who snuck in while the Democrats stayed home in 2010. There is no way he can beat Obama. Maybe Huntsman will come in as a dark horse.
William:
Jon Huntsman will be the Republican candidate for president in 2012. He is the only Republican that will have the appeal to win back all of the moderates that swung to Obama in the last election. He has incredible appeal, strong financial backing and has been very successful in his positions as ambassador to China and governor of Utah.
Dave in Nashville:
What void, Jack? A blowhard gambler and trust fund baby coupled with a man of the so-called cloth had never gotten in to qualify as backing out. Both were teasing their television ratings for the almighty buck. Glad they're gone.