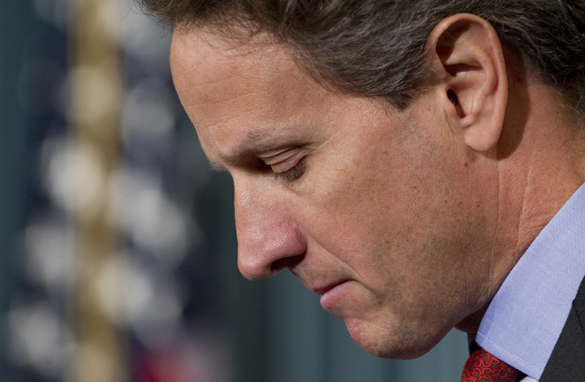 Treasury Secretary Timothy Geithner speaks during a press conference. Geithner announced that the Social Security Board of Trustees estimates that the Old-Age and Survivors Insurance and Disability Insurance Trust funds will be exhausted by 2036. (PHOTO CREDIT: SAUL LOEB/AFP/GETTY IMAGES)
FROM CNN's Jack Cafferty:
The U.S. government officially hit its $14.3 trillion debt ceiling today, Treasury Secretary Timothy Geithner told Congress. It comes as no surprise of course. Geithner pointed to this date months ago. But here we are, and lawmakers don't appear to be any closer to any sort of agreement on raising the limit the U.S. government can borrow.
The U.S. spends on average $118 billion more each month than it takes in. Geithner says he can keep things going until early August. After that, all bets are off. If Congress doesn't agree to raise the debt ceiling by then, the United States could default on its debt obligations. That could have devastating effects on our still-shaky economy and markets worldwide.
Many Republicans and some Democrats are refusing to vote in favor of such a move without a promise to make meaningful spending cuts. And while critics have warned against tying the two issues together, lawmakers are more concerned about how all this talk of debt ceilings and deficit reduction will play out with voters. Some Republicans believe if they vote for raising the debt ceiling, voters - particularly those in the highly vocal, newly powerful and very conservative Tea Party - will see it as a fiscally irresponsible.
A new Gallup poll shows 47% of Americans oppose raising the debt ceiling. Only 19% are in favor of it. But more than one-third say they don't know enough about the topic to say one way or the other. And that's a big part of the problem.
Here's my question to you: Should Congress vote to raise the debt ceiling?
Interested to know which ones made it on air?