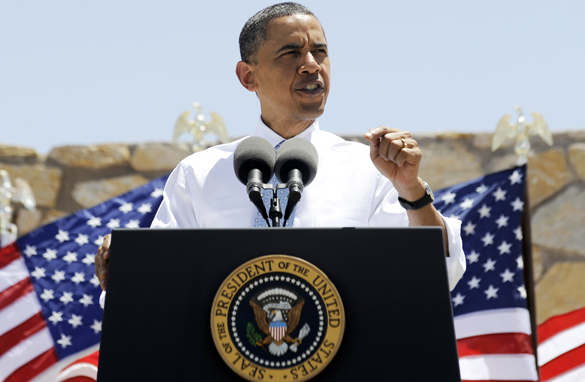 (PHOTO CREDIT:JEWEL SAMAD/AFP/GETTY IMAGES)
FROM CNN's Jack Cafferty:
You can tell there's an election coming. President Obama traveled to El Paso, Texas, to deliver a speech this afternoon on immigration reform. He talked about the economic benefits of immigration overhaul and about increasing the number of border guards from the days of the Bush Administration. Of course, he stopped short of talking specific immigration legislation.
Because of the federal government's refusal to secure this nation's borders, many states have taken it upon themselves to pass their own legislation.
Arizona passed a controversial illegal immigration law last year. It requires police officers to investigate the immigration status of any person they stop who they think may be an illegal immigrant. The law also makes it a crime to not carry immigration paperwork while in the state. You know, just like you're required to carry a driver's license if you drive a car. The U.S. Department of Justice sued to block the Arizona law and won. A three-judge panel of the U.S. 9th Circuit Court of Appeals found the law to be unconstitutional. But Governor Jan Brewer said yesterday that Arizona will appeal directly to the U.S. Supreme Court. The Supreme Court is already set to rule in a case on another Arizona immigration law in the coming weeks, one that dissolves businesses that repeatedly knowingly hire illegal aliens.
If it wins the case, Arizona will need some help enforcing this new law on its own. Which is why it is asking for public donations to fund its legal defense of the law and to construct a fence between Arizona and Mexico. And it's getting them. So far, the state says the response has been very positive. The people of Arizona are tired of waiting for Washington to enforce the federal immigration laws already on the books.
Here's my question to you: Should Arizona be allowed to enforce its own immigration law?
Interested to know which ones made it on air?
Gerry in Ash Fork, Arizona:
You bet Arizona should be permitted to enforce its state-enacted immigration laws. The federal government has been derelict in enforcing existing laws and failed miserably to control our southern border. The last time there was any U.S. control over our border was during the Truman and Eisenhower administrations.
Kathie:
Since Washington doesn't have the guts to enforce the laws on the books, absolutely Arizona should enforce the federal law that they essentially made into a state law. I, for one, am sick of the catering to illegal aliens who rape our education and health care systems then stick us with the bill.
Paul:
Here is another case where the Constitution becomes suddenly inconvenient. Opening the door on this could lead to an endless stream of constitutional challenges in all kinds of jurisdictions from any governor looking to make a name for themselves. It has the potential to paralyze the federal government and waste a whole lot of court time and taxpayer dollars. No thank you to that. Play the hand you're dealt.
Dave in Flora, Illinois:
Definitely. As long as the federal government keeps burying its head in the sand over immigration reform. Part of the reason California is broke is due to the taxation that the illegals have on our healthcare system and social services. They are taking our tax dollars and giving them to help people that have broken the law and do not belong here.
Joyce in Marshall, Texas:
No. Its real intent is to generate income for its prisons. If you want greater chaos, try enforcing 50 different laws.
Rose in Glendale, Arizona:
Yes, Arizona should be allowed to enforce our immigration laws. The federal government has not done the job. To really know what is going on here, one needs to read our local papers or watch our local newscasts. The illegals feel they have the same rights as American-born citizens and expect to be taken care of. Frankly, I am tired of paying for their needs.