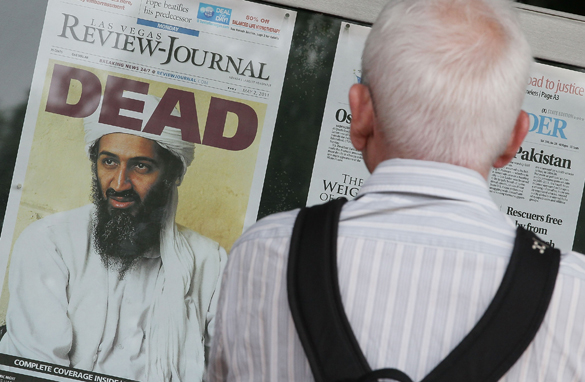 (PHOTO CREDIT: GETTY IMAGES)
FROM CNN's Jack Cafferty:
After hovering around all-time lows in the polls, President Barack Obama is getting a boost in his approval ratings following the killing of Osama bin Laden.
A new Gallup poll finds the president's approval rating jumped from 46% to 52% after Sunday's successful raid of the bin Laden compound.
Issues such as the deficit and the economy have been weighing on Obama's approval and putting his 2012 bid for re-election in jeopardy. His indecision over acting in the recent Middle East uprisings didn't help his cause either. But getting bin Laden - that was big. And somehow people suddenly forget how inexperienced and ineffective he seemed on foreign policy as recently as a few weeks ago.
You can be sure that the economy, things such as jobs and the skyrocketing national debt and deficits will still likely dominate the 2012 race. But for now - for this week– foreign policy and the war on terror have taken center stage. And President Obama is looking pretty good all of a sudden.
But that's also in part because of his lack of competition. The potential field of Republican candidates is pretty awful, consisting of mostly current or former governors and a few current or former House members. Plus a lot of people who have already run for president and lost.
But like I said, we have a tendency to forget pretty quickly, and once conversation switches back to the $14 trillion debt ceiling we're fast approaching and how we're going to cut next year's budget, the bin Laden "get" will likely hit the rear view mirror in a hurry.
Here's my question to you: Should the killing of Osama bin Laden be an issue in the 2012 presidential race?
Interested to know which ones made it on air?
Alex in Bremerton, Washington:
I believe the slow economic recovery will still be the ongoing focus of the presidential race. Getting bin Laden should help put down the conservative assertion that Democrats are weak on protecting the nation.
Steve in Clifton, Virginia:
Lest we forget, the hunting for Osama bin Laden was very much an issue with the 2004 presidential race. Further, since President Obama's many detractors publicly questioned his leadership ability or his ability to handle the phone ringing at the white house at 3:00 AM, the 2012 presidential race seems to an appropriate time to respond to some of those allegations.
Bill in Pennsylvania:
Jack, the race is on now. Everything is being recorded and will be edited, spun and presented in a way to make the most points. Reality, truth, common sense and the best interests of the citizens count for little or nothing. But the public must be made to think they have a choice. The Billionaire-owners will make the decisions and we will follow and vote as we are told by the paid ads from the owners.
Becky in Las Vegas:
Killing Osama bin Laden, no. But Obama's willingness to go after a terrorist where ever he is hiding, should be. Brave call on Obama's part and it merits praise. As CNN contributor Parag Khanna wrote "... this operation has sent a clear reminder to the many porous and poorly governed states that serve as safe havens for terrorist and criminal fugitives that others will extend the law into their territories if they fail to do so themselves."
Ken in Pinon Hills, California:
Pardon the pun, it will be a dead issue. In a sinking economy it will be about jobs. Those ever-decreasing available jobs that the private sector cannot provide, and the government cannot afford to provide anymore.
James in North Carolina:
Only if it can get some votes.