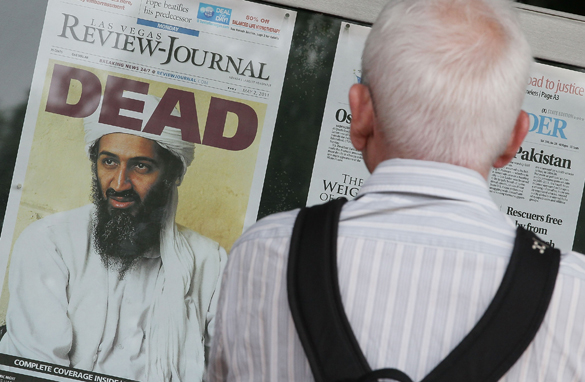 (PHOTO CREDIT: GETTY IMAGES)
FROM CNN's Jack Cafferty:
After hovering around all-time lows in the polls, President Barack Obama is getting a boost in his approval ratings following the killing of Osama bin Laden.
A new Gallup poll finds the president's approval rating jumped from 46% to 52% after Sunday's successful raid of the bin Laden compound.
Issues such as the deficit and the economy have been weighing on Obama's approval and putting his 2012 bid for re-election in jeopardy. His indecision over acting in the recent Middle East uprisings didn't help his cause either. But getting bin Laden - that was big. And somehow people suddenly forget how inexperienced and ineffective he seemed on foreign policy as recently as a few weeks ago.
You can be sure that the economy, things such as jobs and the skyrocketing national debt and deficits will still likely dominate the 2012 race. But for now - for this week– foreign policy and the war on terror have taken center stage. And President Obama is looking pretty good all of a sudden.
But that's also in part because of his lack of competition. The potential field of Republican candidates is pretty awful, consisting of mostly current or former governors and a few current or former House members. Plus a lot of people who have already run for president and lost.
But like I said, we have a tendency to forget pretty quickly, and once conversation switches back to the $14 trillion debt ceiling we're fast approaching and how we're going to cut next year's budget, the bin Laden "get" will likely hit the rear view mirror in a hurry.
Here's my question to you: Should the killing of Osama bin Laden be an issue in the 2012 presidential race?
Interested to know which ones made it on air?