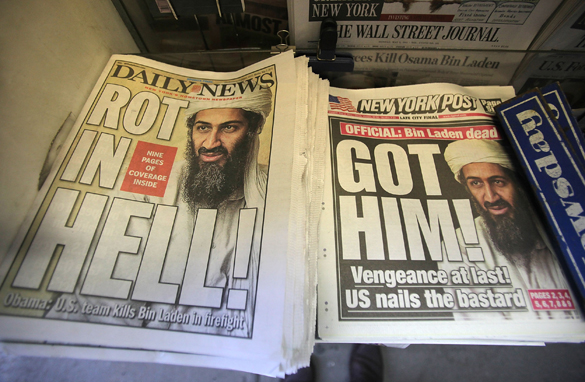 (PHOTO CREDIT: GETTY IMAGES)
FROM CNN's Jack Cafferty:
In the wake of the killing of Osama bin Laden, law enforcement agencies in cities like New York, Washington and Boston have stepped up security on the streets, in airports, and at other transportation hubs like subways and bus stations.
Retaliation attacks from bin Laden's al Qaeda followers are very much a concern.
There's been no specific threat and the Department of Homeland Security has not issued a security alert, though Secretary Janet Napolitano said Americans should remain at a "heightened state of vigilance." Under the newly-revamped Homeland Security warning system, alerts aren't issued unless there are specific threats. The State Department released a warning to Americans traveling outside the U.S. about the "enhanced potential for anti-American violence."
Following bin Laden's killing, chatter on the radical websites used by his terrorist network mourned his death, celebrated him as a martyr and vowed to continue al Qaeda's mission despite the death of its leader. And bin Laden's "number two," Ayman al-Zawahiri, is still out there. Just because one terrorist is dead - albeit the mastermind of the 9-11 attacks– he's still just one man. Al Qaeda is not gone. And there is much hatred against this country among the militant Muslim extremists.
But the "boatload" of intelligence materials recovered by our guys from bin Laden's house-five computers, ten computer hard drives and more than a hundred data storage devices-should give us a leg up in the short term at least as to what al Qaeda might have been planning.
Here's my question to you: With the death of Osama bin Laden, do you feel safer from terrorism?
Interested to know which ones made it on air?
Mike in Denver:
Heck, no. Retaliation is inevitable. Bin Laden likely left instructions to his people on how to strike back. This is by no means over.
Frankie:
Yes. The pendulum has swung over to the side of young people in Libya and Syria and other Middle Eastern countries who are fighting to create decent, uncorrupt, modern societies. Not overnight, but a change for the good is happening.
Ray in Knoxville:
No, Jack., I don't. Bin Laden was the face of terrorism for Americans, but there are still a lot of crazy and pissed off Muslims out there. Also, don't rule out some kind of act from some crazy, right-wing evangelical, either.
Meg:
Just a tiny bit safer, although it isn't the end of terrorism. Whoever takes Bin Laden's place as #1 will know that the CIA and our navy SEALs will eventually get him too. Bin Laden had the money to buy secrecy and a place to hide, but will his next-in-line have financial assets like that? I doubt it, so he should be easier to find and kill.
Terry in Virginia:
No more or less. Terrorism didn't start with bin Laden, and, sadly, it won't end with his death.
Kim in Kansas:
I live in Kansas so, unlike a major metropolitan area, I don't live in a target rich environment. I have more fear of an inept Congress and corrupt Federal Reserve ruining this country.
Max:
Capturing or killing Bin Laden was never about feeling safer. It was about finally putting a period at the end of a very long sentence. Kinda like finally finding a terrible ex-girlfriend and telling her "you know what...? It wasn't me. It really was you. Goodbye."
Jim in Alabama:
I feel safer for a while because I think the capture of the valuable intelligence Bin Laden had in his possession will disrupt Al Qaeda momentarily. As for the long run, who knows? Whether another terrorist leader emerges remains to be seen, but I don't believe it's over.