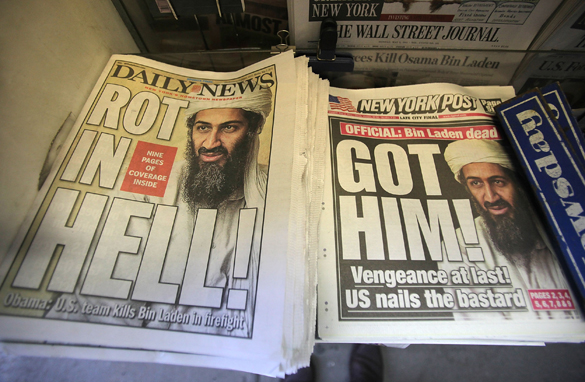 (PHOTO CREDIT: GETTY IMAGES)
FROM CNN's Jack Cafferty:
In the wake of the killing of Osama bin Laden, law enforcement agencies in cities like New York, Washington and Boston have stepped up security on the streets, in airports, and at other transportation hubs like subways and bus stations.
Retaliation attacks from bin Laden's al Qaeda followers are very much a concern.
There's been no specific threat and the Department of Homeland Security has not issued a security alert, though Secretary Janet Napolitano said Americans should remain at a "heightened state of vigilance." Under the newly-revamped Homeland Security warning system, alerts aren't issued unless there are specific threats. The State Department released a warning to Americans traveling outside the U.S. about the "enhanced potential for anti-American violence."
Following bin Laden's killing, chatter on the radical websites used by his terrorist network mourned his death, celebrated him as a martyr and vowed to continue al Qaeda's mission despite the death of its leader. And bin Laden's "number two," Ayman al-Zawahiri, is still out there. Just because one terrorist is dead - albeit the mastermind of the 9-11 attacks– he's still just one man. Al Qaeda is not gone. And there is much hatred against this country among the militant Muslim extremists.
But the "boatload" of intelligence materials recovered by our guys from bin Laden's house-five computers, ten computer hard drives and more than a hundred data storage devices-should give us a leg up in the short term at least as to what al Qaeda might have been planning.
Here's my question to you: With the death of Osama bin Laden, do you feel safer from terrorism?
Interested to know which ones made it on air?