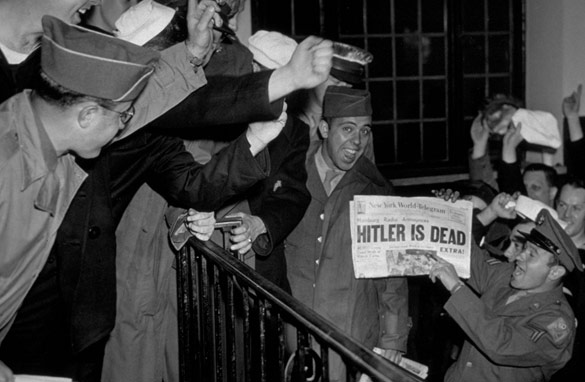 (PHOTO CREDIT: KEYSTONE/GETTY IMAGES)
FROM CNN's Jack Cafferty:
The terror attacks of September 11, 2001 were unlike anything most Americans had ever seen. Three thousand of our own people slaughtered on our own soil. It was an event that saddened and terrified people across this country...but also unified them in a way that they hadn't been since maybe the Second World War.
Sadly, that unity was short lived. We've been a pretty divided nation since soon after those attacks and the partisan politics that have taken over Washington over the past few years have made things downright ugly. But last night, with the news of Osama Bin Laden's death, Americans were once again united. They converged on the streets of lower Manhattan near Ground Zero and outside the White House. There was singing and dancing and flag waving. A sense of victory, but remembrance too.
We haven't seen this sort of patriotism and sense of justice in a very long time. The United States hasn't had much success in the wars we've gotten involved in since World War Two. That was the last one we won outright.
It's been pointed in that both Osama bin Laden and Adolf Hitler were declared dead on the same day, May 1, more than 65 years apart...bin Laden yesterday courtesy of U.S. special forces. Hitler turned a gun on himself when he realized his dreams of world domination for Germany were a lost cause.
Here's my question to you: Historically, what does the killing of Osama bin Laden compare to?
Interested to know which ones made it on air?
Kevin in Arlington, Virginia:
The fall of the Berlin Wall. As that was the beginning of the end of communism, bin Laden's death is the beginning of the end of radical Islamic fundamentalism.
Joe in Mankato, Minnesota:
This is like the end of the Korean War. It feels good at the moment, but in the end we are right back where we started.
Cliff in New York:
If you first eliminate head of government despots like Pol Pot, Idi Amin, Papa Doc Duvalier, Nicolae Ceausescu, and Slobodan Milosevic, Timothy McVeigh comes to mind.
Terri in San Luis Obispo, California:
The end of the Cold War. Although bin Laden's death ends his personal reign of terror and is a huge accomplishment, we will forever have enemies who wish Americans harm. I'm curious to see how Donald Trump is going to spin this to make it "his own personal victory."
Tom in Louisiana:
I think Osama Bin Laden's death best compares to the death of Colombian drug lord Pablo Escobar. Both were high profile criminal figures, with a flock of followers and both managed to elude authorities for years. Both faced grisly deaths at the end of gun barrels by the military. Then there is the War on Drugs vs. War on Terror symbolism which draws further similarity.
Jim:
I think the excitement over the killing of bin Laden will have a very short shelf-life. His presence or absence on the planet has/had little impact on the daily lives of most of us, compared to serious economic problems the great majority of Americans face and have to deal with.
Zoe:
There's nothing for me to compare it to. I was a kid during 9/11; it's the victorious and wonderful end to something that has been going on for the majority of my life.
Susan in Idaho:
This is a coup that's incomparable. Bin laden was being hidden by those that knew what he had done. At the end of World War II, the Germans would have served Hitler up on a silver platter. It's a well known fact, skill and daring overcome ignorance and superstition. I've never known a navy seal but I am smitten.