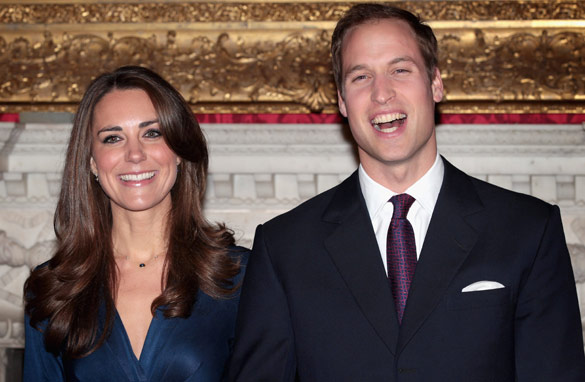 (PHOTO CREDIT: GETTY IMAGES)
FROM CNN's Jack Cafferty:
In case you haven't heard, there's a pretty big to-do planned for tomorrow on the other side of the pond. Prince William will marry Kate Middleton in Westminster Abbey tomorrow afternoon in London... It's the first high profile royal wedding in Britain in decades. You can't turn on a television, open a newspaper or log on to a website without hearing all about it. All the big U.S. broadcast and cable networks-including CNN– will carry the event live with coverage beginning at 4 am eastern time. The wedding itself starts about two hours later.
So it's a really big deal, right? Not so much.
A poll in Britain commissioned by an anti-monarchy group found four out of five Britons are quote "largely indifferent" or quote "couldn't care less" about the royal wedding. Really? They're not even excited about watching it and it's going to be on in the middle of the day…and it's their royal family.
What about Americans?
Do we really care enough to get up at 4 in the morning and watch a wedding on a work day? A New York Times-CBS News poll found that only 6 percent of Americans say they have been following news about the royal wedding "very closely" and 22 percent say "somewhat closely." So again, not so much. It could be a real letdown for the U.S. media which is spending a boatload of money to cover this thing. But Prince William isn't our future king, and people on both sides of the Atlantic apparently have other things to worry about.
Here's my question to you: How excited are you about the royal wedding?
Interested to know which ones made it on air?
Monica:
I can't wait! It is something positive to watch and take my mind off the troubles for the world for a few hours. No bickering politicians, wars, or natural disasters.
Linka in Austin, Texas:
Yes, indeed! I plan to watch and enjoy the wedding. Upbeat moments and stories on live TV are rare and welcome. Hopefully for a few hours, we see beautiful horses, carriages, and happy Brits - if protests or terrorists don't mess it up.
J.B.:
Not excited at all. Remember the last royal wedding? Diana married a cad. My opinion: Let these folks have their wedding in private. Then when they've been married 50 years, have a big celebration.
Keith in Twinsburg, Ohio:
That's very good question, Jack. Wait a minute, let me ask my wife.
David in Alexandria, Virginia:
I think that this is a way to relive our childhood fantasies of castles and kings and queens and handsome princes and beautiful princesses and horses and knights and golden carriages - for just a few moments the stuff that dreams are made of, limitless, fanciful, fun without regret. Some day, perhaps sooner than we realize, royal weddings will be gone. And with them those brief moments of escape to a wondrous, carefree zone.
Joe in Ohio:
Saturday can't come soon enough.
Tim in Texas:
I find the consideration of what might be living under Donald Trump's comb-over more exciting.
Deb:
I am very happy for the couple but unless the dog needs to go out to relieve himself and I cannot go back to sleep, I doubt I will be watching the wedding "live." I am positive I will see the best of the best during the day with highlights from any one of the hundred newscasters/stations that are there to cover it.
Yomi:
Very excited. Good couple. It's good news. It's a distraction from all the bad news one hears from you guys anyway. It's good news and it's a big deal. Please smile. It's nothing to be gloomy about.