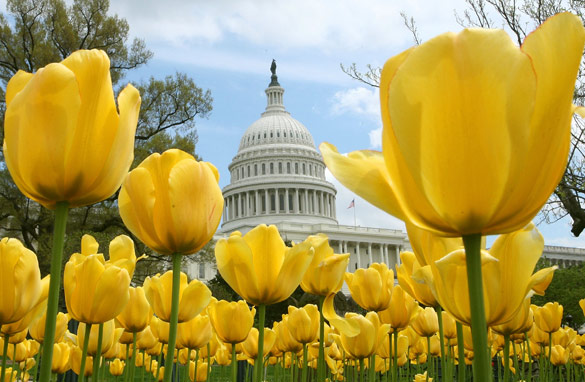 (PHOTO CREDIT: GETTY IMAGES)
FROM CNN's Jack Cafferty:
It's so far, so good for House Republicans when it comes to how to cut the deficits and balance our budget.
According to a new USA Today/Gallup poll, Americans believe the Republican Party is the party better able to handle the budget problems facing this country and to fix the economy. Apparently that six-month-long game of chicken they played with the 2011 budget really paid off for them. At least for now. However, a much bigger battle over the budget and spending awaits. When Congress returns from its two-week spring break and raising the debt ceiling is front and center, we'll see if popular opinion changes.
It might. According to that same USA Today/Gallup poll, Americans are split on whether the deficit plan drafted by Republican House Budget Chair Paul Ryan or the one proposed by President Barack Obama is the right path for the country. Two-thirds of Americans are concerned the GOP plan for reducing the deficit would cut too deeply into Medicare and Social Security. Everyone wants the deficit cut, but no one wants to cut entitlements.
But it's a topic that's not going away. Republican House Speaker John Boehner said in an interview with Politico on Monday that there might not be a deal on raising the debt ceiling unless Democrats agree to rein in discretionary spending and reform Medicaid and Medicare. Things could get very ugly very quickly when Congress reconvenes.
Here's my question to you: Do the Republicans have the right idea when it comes to the budget?
Interested to know which ones made it on air?
Chris in Hillsborough, New Jersey:
Well, yes and no. I applaud their initiative. They realize that we are in a hole and that we need an answer otherwise we're going to have significant problems. However, I disagree with what they're seeking to cut. With that being said, the Democrats are taking no initiative to dig us out of this hole. With the GOP plan we'll make progress. The question is though, what progress will it be?
Sylvia in San Diego:
Yes. Absolutely. Rep. Paul Ryan's "Path to Prosperity" is a start in the right direction.
Paul:
Jack, not even close. The GOP (greedy old parasites) have been the tools of corporate Wall Street since the Grant Administration. The first thing to do is elect Democrats to the majority in both houses. Second, get out of the Afghanistan/Pakistan and Iraq wars. Third, tax the richest 3% of Americans at Eisenhower era levels and close the corporate loopholes. Fourth, open Medicare as a choice for all U.S. citizens. Fifth, bring back the draft with no deferments to reduce unemployment to manageable levels.
Gary in Missouri:
There are no right or wrong answers, only the need to survive. And if the government keeps spending more than it takes in, the U.S.A. will not survive.
Thomas:
At least the GOP has the political courage to address previously 'sacred cows,' Social Security, Medicare and Medicaid. Obama and the Democrats are still kicking the can down the road. All they like to do is demonize. No real leadership or thought.
Bob in Ontario:
Jack I am writing from Kaladar, Ontario. In answer to your question, it doesn't matter where you are. Conservatives are never right because the little guy is never on their radar. You need to get a Canadian on your show some time to explain how a little bit of socialism can improve a country.
Bryan in Colorado:
No, they want to keep cutting taxes. And the Democrats keep going along with it. We need jobs in America to solve our budget problems. Without private sector jobs, nothing else can be paid for. We are currently living in the actual proof of this.