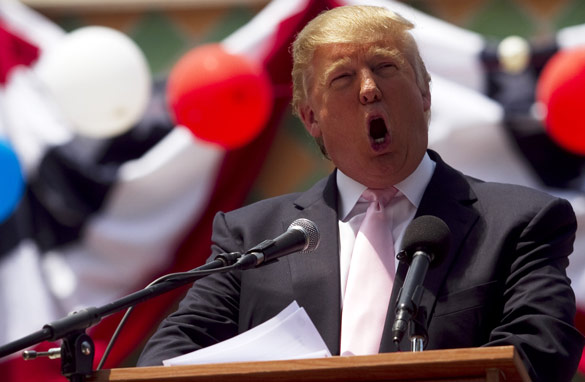 Donald Trump at last week's Palm Beach County Tax Day Tea Party. Trump is considering a bid for the presidency in Election 2012. (PHOTO CREDIT: GETTY IMAGES)
FROM CNN's Jack Cafferty:
Is Donald Trump playing us?
It's a question Christopher Byron asks in an opinion piece on CNN.com.
If Trump is, it wouldn't be the first time.
Byron wonders if the billionaire real-estate-developer-turned-reality-TV-star is serious about running for president or if he's up to something else. His guess is choice B.
And he may be right. After all, The Donald's flirted with the idea of running for president two times before only to bow out before the race heated up.
This go 'round, he's created a lot of drama around a possible run, using flashy quotes like "Barack Obama has been the worst president ever," latching onto causes like the so-called birther movement and appearing regularly on cable news channels to share his plans for saving the world. He's said he'll announce whether or not he's actually running for president before June, possibly on the finale of his reality show, "Celebrity Apprentice."
See, May is a ratings month in television. The Donald no doubt figures he can spike the ratings for his TV show by announcing his intentions there. He's no dummy.
Trump's possible presidential run is classic Trump. He's perpetually happy to jump in front of a TV camera and spout his opinions. And whether you agree with him or not, you have to hand it to him. He is arguably one of the greatest self-promoters ever.
As Chris Byron's piece points out, Trump has been holding off on renewing his contract with NBC for the "Apprentice" franchise. Driving up his ratings with the possibility of a big announcement like a presidential bid may be his way to get the upper hand in any future contract negotiations.
However it turns out, Byron suggests Trump is taking the country for a ride.
Here's my question to you: Is Donald Trump playing us for suckers?
Interested to know which ones made it on air?
Carol in Northampton, Massachusetts:
I believe that he's playing the Republicans and making the wacky right look even wackier. He's creating a caricature that eclipses even Palin and Bachmann, but the Tea Party is buying it. Plus, he loves the spotlight to build his over the top brand. Winning on all fronts.
Rich in Texas:
I don't know that I would ever vote for him, but I do like the fact that he brings up all of the issues we Americans are concerned with: Jobs, Oil Prices, China's overwhelming trade advantages. He is changing what the news is talking about and that is good.
Chuck in Maryland:
Of course not. He's just the only person savvy enough to realize that the answer to climate change is to get the right person to tell it not to.
Tony in Tacoma, Washington:
Jack, the Donald has been playing us for suckers for a long time. Finally, his narcissistic behavior is totally exposed and he will out Trump himself. The real question is will NBC let themselves be suckered, too? I can't wait for May 16th when NBC "fires" the chump!
Bonnie in New Jersey:
I think he isn't being any different than he ever is: loud, brash and arrogant. I hope he runs and splits the Republicans. I am not so thrilled with the Democrats but at least the middle class person might stand a chance with them. The Republicans no longer even try to pretend they care about us.
Tim in Texas:
Not me. I'm boycotting NBC until they pull his program off the air. This country has too much going on right now for this megalomaniac to disrupt the political process and speciously attack the President of the United States, so that his B-list reality show gets higher ratings.
Randy:
No. The media is playing us for suckers. Donald Trump is a circus bear riding a small bicycle with literally a helmet on, and the media is following it as if it was a serious news story. If you put out enough crazies, Jeb Bush won't look so bad. This is the plan.
Amy in New York:
Whether you agree with his politics or not, I do not think America could ever be led by a person who is blind to the total absurdity of what is on top of his head.