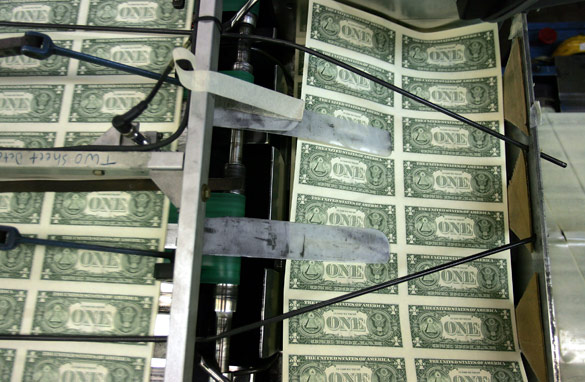 (PHOTO CREDIT: GETTY IMAGES)
FROM CNN's Jack Cafferty:
In the abstract, it's a noble calling: Support oppressed people's yearning to breath free. Over the years, the United States has made a general practice of coming down on the side of people who are fighting for their freedom. But now that there are a dozen uprisings in the Middle East, it's probably worth taking a closer look to see if it's really that good of an idea.
Syria, for example, has been the scene of unrest since mid-March. The Washington Post reports that the U.S. State Department has secretly financed several Syrian political opposition groups since 2005. The Post reporting was based on diplomatic cables the folks at Wiki-leaks got a hold of. The State Department refused comment on the authenticity of the cables, but a deputy assistant secretary of state said the State Department does not endorse political parties or movements. Baloney.
If you provide aid - military, financial, humanitarian - you do.
In Libya, nobody knows who we are supporting but by participating in NATO-led air strikes, we're supporting someone. And as tensions continue to rise in Yemen, Bahrain, Iran, and elsewhere, we may want to exercise caution about who we are getting into bed with...
Oh, and the other part is we don't have any money. We really don't have any money. And for people in this country who have been unemployed for years, can't find a job and are faced with the thought of their unemployment benefits running out, telling them we're giving cash to a shadowy poorly organized dysfunctional group of malcontents in some faraway middle eastern country ain't going to go down so well.
Here's my question to you: Should the U.S. be funding rebel groups in the Middle East?
Interested to know which ones made it on air?
David:
As much as I hate to say it, no. Before we get ourselves involved in yet another military action we need to address our own problems, like the deficit, infrastructure, unemployment, failing school system, our broken government, broken borders, etc. We have way too many problems to be spending money on more bombs and bullets.
Kim:
Why not? It seems like we fund every murderous and corrupt dictator that's out there. If there are any rebel groups that control massive oil fields, or contribute to congressional election campaigns, then I'm positive we will find a way to waste taxpayer dollars on them as fast as humanly possible.
Kathie:
We need to stop funneling our money into everyone else's business. We bankrolled Iran, Iraq, etc until, at a later date, another president determined they were now our enemies. Time to take care of business at home!!!
Richard in Malvern, Pennsylvania:
Sure! Let's fund the insurgents in Libya, Bahrain, Syria, and everyone else that wants our money. Let's also give them high-tech weaponry. Along this line of logic, let's befriend Al Qaeda and the drug lords. Enough is enough! No one gets anything until the USA is solvent. You cannot buy good will. You would think we would have learned that by now.
Dennis in Florida:
The U.S. government has no idea who the leaders of the rebels are or who the rebel leaders really represent.
Bill:
No. When education is being cut, when state budgets are being cut, when bridges and highways are crumbling, when even the electrical transmission systems are rotting and rusting, money going overseas should be slashed if not stopped.
Larry:
Be much easier to just let them fight it out internally and whoever stands will still control the oil. Time to fold up our tents, come home and figure out a way to prevent $5 gas by summer. All about the oil.