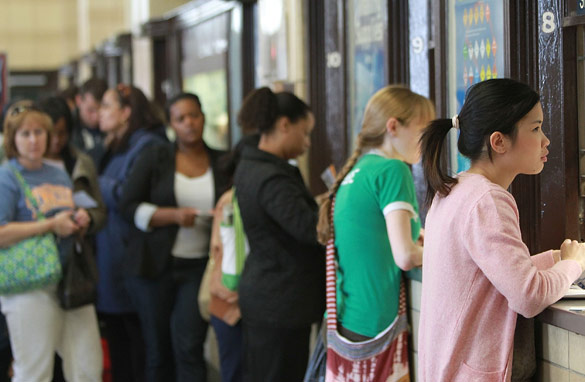 People waiting in line at a downtown Manhattan post office April 15 to file at the last minute. (PHOTO CREDIT: GETTY IMAGES)
FROM CNN's Jack Cafferty:
Today is the deadline to file your income tax return, three days later than usual because of a federal holiday.
And despite this country's dire financial straits, the very rich are paying a lot less in income tax than they did just twenty years ago. The IRS tracks 400 households with the highest adjusted gross incomes each year. In 2007, the average federal income tax rate that group paid was just 17 percent. In 1992, it was 26 percent. Over that same period, the average tax rate for all taxpayers dropped to 9.3 percent from 9.9 percent.
What's more is according to the Tax Policy Center, 45 percent of U.S. households - a total of about 69 million - will pay no federal income tax. In fairness, most of those 69 million households still pay other taxes like state and local income taxes and property and sales taxes too. Two thirds of that group pays payroll taxes - many pay more than they get back on their federal return.
Most of the households in the group that doesn't pay federal income tax earn less than $50,000 a year. But about 5 million make between $50,000 and $1 million a year. The secret is in the tax breaks, on everything from having a child to going to college to paying your mortgage. According to the IRS, the tax code currently has a total of $1.1 trillion in credits, deductions and exemptions. That comes to an average of about $8,000 per taxpayer.
But that could change. House Republicans want to eliminate tax breaks and lower overall rates. The President has said he wants to do away with tax breaks too.
Here's my question to you: How should income tax laws be changed?
Interested to know which ones made it on air?