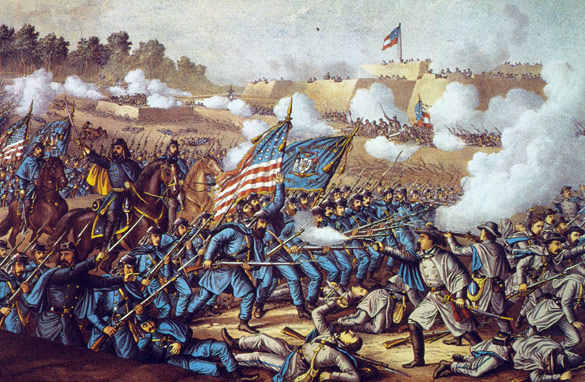 (PHOTO CREDIT: GETTY IMAGES)
FROM CNN's Jack Cafferty:
Yesterday marked 150 years since the start of the U.S. Civil War. It was the bloodiest war in U.S. history - a war that divided our nation physically and ideologically and led to 600,000 deaths.
To mark the occasion, President Obama said, "We remember the great cost of the unity and liberty we now enjoy, causes for which so many have laid down their lives."
Liberty, yes. But unity? Not so much.
He's got a front row seat to a circus of a Congress that took six months to come up with a 2011 budget. And they still can't agree on any meaningful cuts going forward. We're a long way from unity.
In an interview in Los Angeles this week, California Governor Jerry Brown said this country is more divided now than at any time since the Civil War. Brown is facing a fierce budget battle with California Republican lawmakers. He said the difficulty he's having working with Republicans in California on the state level mirrors what's going on in Washington.
He's right.
Also look at Wisconsin, Ohio and other places where fundamental divisions are boiling over like we haven't seen maybe since Vietnam.
By the way, Brown has to close a deficit that was as high as $26.6 billion. With a hole like that, good luck on that unity thing.
Here's my question to you: California Gov. Jerry Brown says the country is the most divided since the Civil War. Is he right?
Interested to know which ones made it on air?
Dave in Arizona:
Yes, our leaders do nothing but spread hate and vitriol at every turn, each trying to blame another segment of the population for the country's problems. Our nation has garnered a sports team mentality. We are a group of different pockets of beliefs and each hates the others' thinking.
Carol in Northampton, Massachusetts:
Jerry may have been around then, but I don't think so. The independent middle does keep the radicals on the right and left in balance. I'm feeling more optimistic with Trump in the mix. He'll prove that "looney" won't play in Peoria.
Larry:
During the Civil War it was North vs. South. It's 2011, and we are divided not only north and south, but rich and poor, red and blue, white, black, Hispanic, Asian, employed and unemployed, union, non union. How much more divided can we be?
Caroline:
Jerry Brown has a point. However, the problem is broader than the Congress and their infantile behavior creating a "divided country". We elected them– at least those of us who bothered to vote. I wonder what would happen if the "non-voters" voted.
John in New Britain, Pennsylvania:
Most folk I talk to are unhappy with Washington as a whole, but too frustrated to dig deep enough to get at the true facts. As a result those with extreme views are stealing the limelight. Need a leader for the middle 60 percent-plus of us who just want to bring back the standards of 1950's – 1980's when taxes and compensation levels were fairer. We did have some GOP administrations in that period who served more than the greedy.
Joane in Wisconsin:
Well, that could be. We have a president who engages in class warfare. His so-called budget deficit speech today was nothing but a "kickoff to his 2012 campaign," full of generalities and trying to draw in and get back the Seniors. What he does not know is we want him gone. Seventy five percent of our neighborhood is Democrat, and 70 percent will not vote for him again no matter what.