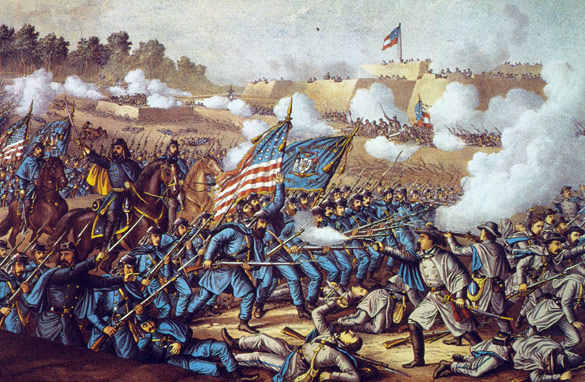 (PHOTO CREDIT: GETTY IMAGES)
FROM CNN's Jack Cafferty:
Yesterday marked 150 years since the start of the U.S. Civil War. It was the bloodiest war in U.S. history - a war that divided our nation physically and ideologically and led to 600,000 deaths.
To mark the occasion, President Obama said, "We remember the great cost of the unity and liberty we now enjoy, causes for which so many have laid down their lives."
Liberty, yes. But unity? Not so much.
He's got a front row seat to a circus of a Congress that took six months to come up with a 2011 budget. And they still can't agree on any meaningful cuts going forward. We're a long way from unity.
In an interview in Los Angeles this week, California Governor Jerry Brown said this country is more divided now than at any time since the Civil War. Brown is facing a fierce budget battle with California Republican lawmakers. He said the difficulty he's having working with Republicans in California on the state level mirrors what's going on in Washington.
He's right.
Also look at Wisconsin, Ohio and other places where fundamental divisions are boiling over like we haven't seen maybe since Vietnam.
By the way, Brown has to close a deficit that was as high as $26.6 billion. With a hole like that, good luck on that unity thing.
Here's my question to you: California Gov. Jerry Brown says the country is the most divided since the Civil War. Is he right?
Interested to know which ones made it on air?