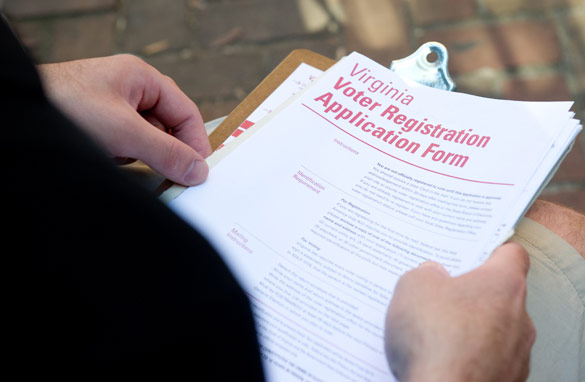 (PHOTO CREDIT: SAUL LOEB/AFP/GETTY IMAGES)
FROM CNN's Jack Cafferty:
One of the requirements for becoming a citizen of the United States is passing a written civics test. Questions include: What are the two parts of the U.S. Congress? Who is Commander in Chief of the military? What is the highest court in the United States?
Pretty easy, right?
Well last month, Newsweek gave 1,000 Americans the U.S. citizenship test to see if they could pass it if they had to. 38% failed. Questions like why we fought the Cold War stumped 73%. Defining the Bill of Rights tripped up 44%. 29% couldn't name our current vice president. And 6% weren't sure when we celebrate Independence Day.
But it's not just civics and American history many Americans aren't "getting." There is a general disconnect between what many voters think and what actually goes on in Washington. According to a CNN poll, most Americans think that the government spends a lot more money on programs like foreign aid and public broadcasting than it actually does. Many Americans support cuts to those programs even though they amount to very little of the overall budget. When it comes to entitlement programs like Social Security and Medicaid - the ones that really cost our government the big bucks - most Americans want to avoid cuts.
In a column for CNN.com, contributor LZ Granderson says that too many ignorant voters in this country may be to blame for too many incompetent men and women in Congress. Granderson suggests weeding out "some of the ignorant by making people who want to vote first pass a test." He suggests the same citizenship test immigrants must pass.
Here's my question to you: Should a basic citizenship test be part of the voter registration process?
Interested to know which ones made it on air?
Mar in Tampa, Florida:
No. It is hard enough to get people to vote now. If you require that they pass a test in order to vote, the turnout will be even more dismal.
Loren in Chicago:
No, we must suffer fools gladly. Remember that these types of tests were endemic in the South to prevent Blacks from voting. It may be good citizenship to know how our government functions, but you can't legislate that.
Greg in Arkansas:
The test would be a good idea for voters if, and only if, all candidates were required to pass a more stringent test to demonstrate their understanding of the job they expect us to elect them to.
Eve in Texas:
Why require something that will be struck down by courts? I'd like to see proof of citizenship.
Mike in Maine:
A test is a bad idea for obvious reasons. Instead, we need to teach the next generation that it is their civic duty to vote only after they have taken the time to learn something about whom or what they are voting for. If everyone did that now, do you really think we'd be stuck with the crowd we now have in D.C.?
Cheryl in Bluffton, South Carolina:
What an intriguing question, Jack! It's tempting in order to eliminate low-information voters, but it would add a layer of bureaucracy, and after all, Americans have a right to be dumb or to believe in whatever foolishness they choose to.
David:
I am a High school U.S. history teacher. I found this test online as well. I decided to give it to my students and after they took it and scored pretty well, I gave it to the other teachers and administrators in the school. The students did much better than the teachers. But I am not in support of the weeding out of the "less informed" because it goes against the right to vote to all American citizens.
Pete in Georgia:
Jack, what are you trying to do give the Democrats a heart attack?