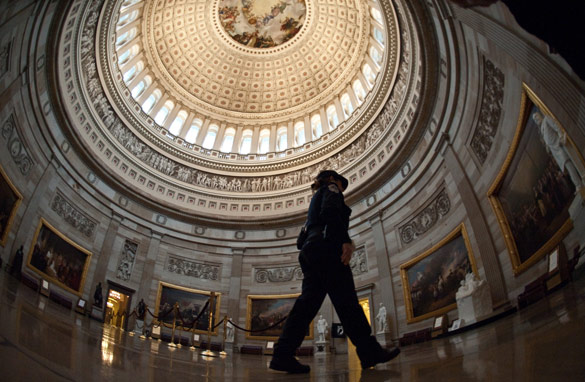 (PHOTO CREDIT: NICHOLAS KAMM/AFP/Getty Images)
FROM CNN's Jack Cafferty:
It was close, but less than two hours before the federal government was set to shut down Friday night, Republicans and Democrats came to an agreement on $38.5 billion in spending cuts to the 2011 fiscal budget.
All the expected self-congratulatory back-patting and smiles accompanied the deal. Some even touted the measure as creating the largest spending cuts in American history. But let's not forget the fiscal year is half over already, and they've been putting this off for six months. Let's also not forget that when it comes to the debt crisis in this country, the 2011 budget is only the tip of the iceberg. In the eight days leading up to the vote Friday night alone, our national debt rose by $54 billion. We are anticipated to run a deficit of $1.4 trillion this year, so $38.5 billion is chump change.
The next big fight on Capitol Hill will be over raising the nation's debt ceiling. The Treasury Department says we'll reach that limit of $14.3 trillion dollars around May 16. Starting this weekend, Congress will be on a two-week spring break. That makes a lot of sense. That means when they return, they'll only have about two weeks to hammer out a deal before the country runs out of money. Many Republicans have said they will not vote to raise the debt ceiling under any circumstances. Period.
President Barack Obama is expected weigh in on all of this Wednesday in a speech that will lay out his plan for reducing the deficit. The president will propose cuts to Medicare and Medicaid and call for reforms to Social Security. He will also suggest raising taxes for Americans making more than $250,000 a year.
All things we've heard before. All things that are needed and, of course, nothing's been done. But Congress is going on vacation.
Here's my question to you: If it takes the threat of a government shutdown to cut $38 billion, how will serious deficit reduction ever be accomplished?
Interested to know which ones made it on air?
Tom in Huntington, New York:
By getting rid of the Bush tax cuts. They could also close the loopholes that allow corporations, making billions in profit, to pay no taxes. We have much more of a revenue problem than a spending problem. The Uber-rich are not paying their fair share. It is past time that they "share the pain."
Don:
It won't. The amount of cuts required to balance the budget are simply too overwhelming to comprehend. Even more depressing, no politician will dare to risk political suicide by proposing any unpopular cuts.
Ray in Georgia:
One of two ways. It took us about 75 years to get into this mess so it may take us 75 years to get out of it. But to be sure, we will need some grown-up's to do it. It is disgusting to hear some of the elected representatives say the sky is falling if we cut anything. Well the sky will fall if we do nothing.
Z. in Burbank, California:
If we get out of Iraq like promised and send all the illegal alien parasites back home, we would be absolutely shocked at how much more money is in the coffer. It's not rocket science. A work-for-welfare program wouldn't be a bad idea either. They can fill the void from the banished illegals.
Tom:
Obama's stimulus program is the proven solution to a healthy economy. When we are earning money again we will be in a position to bring down the deficit. Top economists like Krugman, Reich, and Stiglitz know that cutting spending is going to set the economy back and postpone any possibility of paying down the deficit.
Jeff in Minnesota:
One dollar at a time, Jack. This will not be easy because of all of the "sacred cows" that have been created over the years. This is where President Obama needs to lead.