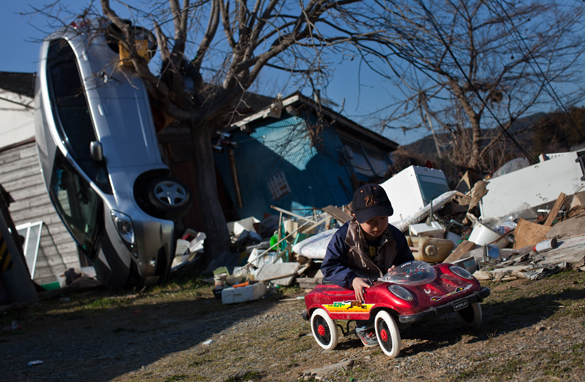 (PHOTO CREDIT: YASUYOSHI CHIBA/AFP/Getty Images)
FROM CNN's Jack Cafferty:
A 7.1 magnitude earthquake shook northeastern Japan today, the strongest aftershock since the massive 9.0 earthquake and tsunami that followed devastated the nation four weeks ago.
One of the big concerns of course is possible further damage to the Fukushima Daiichi nuclear plant. The Tokyo Electric Power Company - or TEPCO which runs the plant - said there were no serious incidents as a result of the aftershock.
Or so they say...
Radioactivity from the plant has poisoned the surrounding land, air and ocean. Millions of people have been exposed. And millions more could be… as radioactivity has been picked up in food and drinking water. And detected in faraway places like California.
This week, workers plugged a crack at the plant that had been gushing contaminated water into the ocean for weeks. As a result, TEPCO says radiation levels in the water off the coast there have dropped dramatically.
Yesterday, the head of the United Nations Scientific Committee on the Effects of Atomic Radiation said the Fukushima accident is not expected to have any serious impact to the health of the Japanese people. He said "We have seen traces of iodine in the air all over the world now, but they are much, much, much lower than traces we have seen at similar distances after Chernobyl."
But not everyone is feeling so certain.
In South Korea, more than 130 primary schools and kindergartens were closed today outside Seoul. People there are worried that windy, rainy weather could be carrying radioactive material from nearby Japan. North Korea also aired warnings on television for its people to stay indoors during the rain and to take a full shower if caught outside in a storm. Even here in the United States, some chefs are using sensors to test levels of radiation in the fish they plan to serve in restaurants.
Here's my question to you: Do you believe you're being told the truth about the nuclear accident in Japan?
Interested to know which ones made it on air?
Fred:
You want the truth? You can't handle the truth! Just how should a government balance our right to know the truth with the perceived need to not create a panic and thus a larger problem? Can you really evacuate a million people? To where? Yet, without the truth, how can anyone try to act reasonably? In the end, we do have a right to know the truth. Honesty is the best policy.
Paul in Dayton, Ohio:
Jack, I believe they are telling what they think they know with certainty; it is most certain they don't know everything
Jeremy in Vallejo, California:
So I'm confused. Is the current California radiation level "harmless to human health," "not immediately harmful to human health," "not permanently harmful to people outside the region" or "no more than an apples-to-oranges transcontinental flight?" Perspective. In Japan they had yet another earthquake and have lived in fear and chaos for over a month. And yet, their government hasn't shut down. Nuclear disaster, natural disaster and absolute destruction doesn't keep their elected officials from their duty to the people. Yet in America... we get Harry Reid, John Boehner and a White House who is more concerned with their 2012 re-election campaign. It's times like these when we see just how far off the mark we truly are.
Craig:
No. Just too many things going wrong. They say that seafood will be safe. I ask you this. Do fish migrate? Do they set up house keeping in one spot and then stay there? If so, why do I not catch fish in the same place every day?
Louis:
The nuclear industry telling the truth?
Jim in Cripple Creek, Colorado:
The unicorn, garden gnome and I were talking this over just the other day and we all agreed that it could happen. Why not?