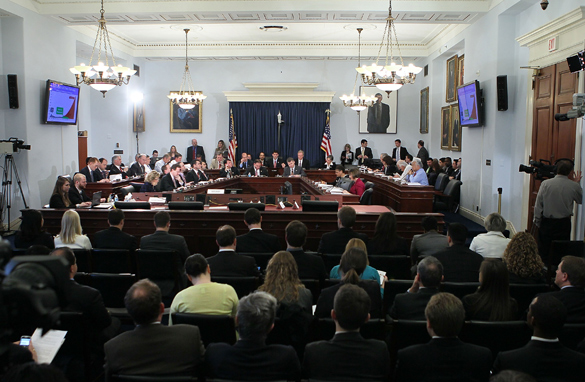 Committee Chairman Rep. Paul Ryan (R-WI) (C) speaks during a markup hearing before the House Budget Committee on Capitol Hill. (PHOTO CREDIT: GETTY IMAGES)
FROM CNN's Jack Cafferty:
The clock is ticking. The federal government will shut down Friday night if Congress does not agree on a 2011 budget. Republicans in the House and Democrats in the Senate appear to be billions of dollars apart on spending cuts and a deal is nowhere in sight.
Pretty pathetic.
Oh, and President Obama is off fundraising in Pennsylvania and New York tonight. But apparently they are all going to try to get together at the White House when the president gets back there later.
But our problems with debt and spending are staggering. And our lawmakers' failure to address the issue in any meaningful way borders on being criminal.
Try this on. According to the Treasury Department, the federal government spent more than eight times what it brought in in the month of March. Eight times.
And by the end of this fiscal year in September, the national debt will exceed $15.4 trillion.
How did we get here?
Well for one, the size of government has gotten out of hand: More people now work for the government - 22.5 million Americans - than work in the manufacturing, farming, fishing, forestry, mining and utilities industries combined.
Republican Congressman Paul Ryan from Wisconsin, the new chairman of the House Budget Committee, says that the United States is at a "tipping point" in its debt crisis. He says the Congressional Budget Office predicts our economy will simply be unable to continue past 2037 if something serious isn't done soon.
Here's my question to you: What does it mean that the U.S. government spent 8 times more than it took in in March?
Tune in to the Situation Room at 6pm to see if Jack reads your answer on air.
And, we love to know where you're writing from, so please include your city and state with your comment.