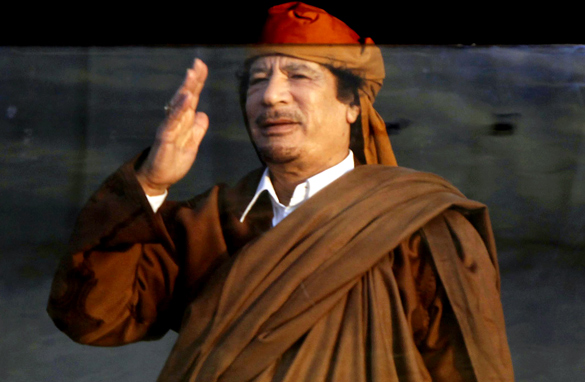 (PHOTO CREDIT: MAHMUD TURKIA/AFP/Getty Images)
FROM CNN's Jack Cafferty:
There's little chance U.S. military involvement in Libya will be considered a success if Moammar Gadhafi is not removed from power.
President Obama has called on Gadhafi to step down over and over again. So has the United Nations and the opposition forces fighting Gadhafi in Libya have as well; but that hasn't happened and it doesn't look like it's going to happen any time soon.
A government spokesman for Gadhafi's regime said yesterday that Libya is ready to reform its political system and even hold democratic elections, but that Gadhafi will not step aside. The spokesman said the Libyan people must decide whether their leader for the past 42 years, Gadhafi, should stay in power.
Gadhafi's second son, Saif al-Islam Gaddafi, echoed all of this to the BBC in an interview today. He says sweeping changes are possible in Libya - But he scoffed at the idea of his family leaving the country or going into exile.
He told the BBC, "It's our country you want us to leave? To where? The Maldives? To the Caribbean? We are Libyans."
The Libyan government insists that the Gadhafi regime is not attacking civilians. Nobody believes that. And I don't think anyone is going to buy the "ready for reform" line either.
Here's my question to you: Should Moammar Gadhafi be allowed to remain in Libya?
Interested to know which ones made it on air?
Bob:
No, he must be charged at The Hague for his crimes against the Libyan people. Better yet, he should be tried by Libyans and be hanged like Saddam Hussein.
Chris:
Having a son take the lead still means Dad is in charge. Nothing will change. The right course is for the UN to do their job, remove and destroy the killing machines, protect the citizens, and allow them the chance to elect their own leaders.
Don in Westport, Massachusetts:
Yes. In an unmarked grave.
Rick in Detroit, Michigan:
Gadhafi enjoys a higher popularity rate than any of our elected officials. Maybe we should just mind our own business.
Juan in Adana, Turkey:
Whatever is done here, here it should be paid. With this said, the dictator's fate should be up to the Libyan people, whether it is prison time or not.
Harold in Anchorage, Alaska:
Sure, a prison in Libya will do as well as a prison elsewhere.
Joe in Fort Walton Beach, Florida:
He ought to stay in Libya. If not, we will have him south of the border in Venezuela, which probably is the only country that might take him.
Mark in British Columbia:
Again, American imperialism never ceases to amaze me. Who are we to decide who is a leader of their people? You, Americans, are being misled by your government again. Libya is not a threat and neither is Iraq or Afghanistan to America. You want a war? Look at your southern border!
Kevin in California:
No, he needs a cruise ... missile that is.