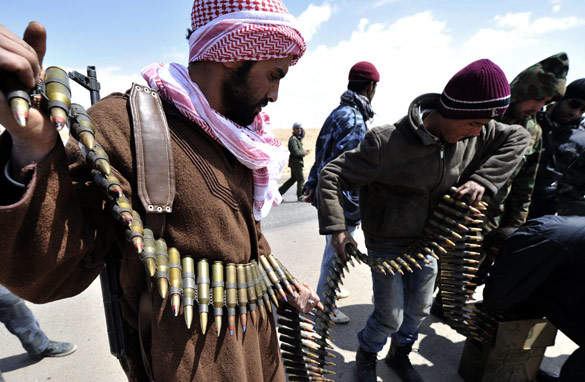 Libyan rebels prepare for battle against government forces. (PHOTO CREDIT: ARIS MESSINIS/AFP/GETTY IMAGES)
FROM CNN's Jack Cafferty:
In an interview with the Boston Globe in December 2007, then-Sen. Barack Obama said this on the campaign trail, "The president does not have power under the Constitution to unilaterally authorize a military attack in a situation that does not involve stopping an actual or imminent threat to the nation."
He was talking about Iran at the time, but fast forward three-plus years, and some lawmakers are accusing him of doing just that in Libya now that Obama is president.
In separate remarks that same year, then-Sen. Joe Biden (and now Obama's vice president) said he'd move to impeach a president that did such a thing. Don't you hate when those words come back to bite you?
There are a lot of unanswered questions swirling around about our involvement in Libya on the part of Congress and the American people:
Did the president have the authority to deploy U.S. military to Libya?
What is the U.S. mission there?
How quickly can and should we hand over control and to whom? (It's something the president, Secretary of State Hillary Clinton and Secretary of Defense Robert Gates have talked a lot about.)
And maybe most importantly, what is the end game?
The Obama administration insists it has been responsive to the many questions about the Libyan mission, but no one on Capitol Hill seems to be happy with the president or clear on what's going on there.
Here's my question to you: Do you feel you have been told the truth about Libya?
Interested to know which ones made it on air?
Rob in Louisville, Kentucky:
Of course they are telling us everything! They have no clear mission, no clear exit strategy, no clear definition of success or failure, no clear understanding of who is in charge, and no clue what the results of the actions are going to produce good or bad.
Cheryl in Bluffton, South Carolina:
I don't know the whole truth, Jack, but President Obama and his advisers do. More importantly, I don't feel I've been lied to, which is nice for a change.
John in Oakland, California:
Heck, I don't feel like I've been told the truth about anything that really matters - and I'm 61 years old! Old enough to have lived through the years of Vietnam, Watergate, WMD in Iraq and "Change We Can Believe In," and sadly, to have adopted an acquiescence when it comes to my government lying to me. I expect it!
Cal:
I think we've been told as much as possible without telling the crazy man what's going on as well. "Instant gratification" has become a habit. Give our forces a chance to do this and don't demand too much too soon.
Ralph:
Yes. A town the size of Seattle, Washington was faced with extermination and the U.S. and its allies under UN approval stepped in at the last moment to stop it. The rest is hogwash.
Nina:
Told the truth? You must be joking! "We the People" have not been told the truth since the Dark Ages. We were told our country was in jeopardy because of Communism during the Vietnam War. We were told Iraq had WMDs. We were told that al Qaeda was in Afghanistan. All was a bunch of lies in order to fight bi-proxy wars for global corporations and special interest groups.
Rich in Texas:
Jack what I think is that no one knows the truth. This thrown-together hodgepodge of some resemblance of military force has no clear mission and no clear goals. How can they ever know if they have achieved a desired effect if they themselves do not know what that is?