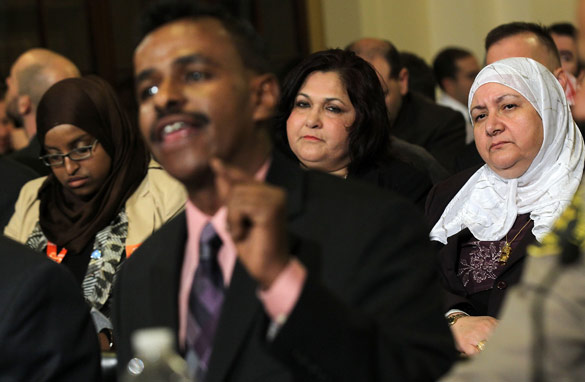 The House Homeland Security Committee held a hearing entitled "The Extent of Radicalization in the American Muslim Community and that Community's Response" on Capitol Hill on March 10. (PHOTO CREDIT: GETTY IMAGES)
FROM CNN's Jack Cafferty:
A Senate Judiciary subcommittee led by Democratic Dick Durbin of Illinois will hold a hearing next week on Muslim-Americans' civil rights. Aren't they the same as every other Americans' civil rights? And is this what needs our immediate attention at this time? Sometimes the people in Washington can make you want to stick sharp objects in your eyes.
The Durbin circus comes just weeks after the circus led by Rep. Peter King, R-New York. He held congressional hearings on the topic of the radicalization of Muslim Americans. Those hearings sparked protests and demonstrations. Critics called them a witch hunt and said they sent the wrong message to Muslim-Americans.
Durbin is apparently trying to send a different message to Muslim-Americans, as if he doesn't have other, more important things to do. These hearings will be the first held by the new subcommittee on the Constitution, civil rights, human rights and the law.
Durbin says he's called for the hearings because there's been an uptick in anti-Muslim sentiment in this country. He says it's important to renew the nation's "commitment to religious diversity and to protect the liberties guaranteed by our Bill of Rights." Right.
However, according to The Washington Times, the latest FBI data show that hate crimes against Muslims account for just 9.3% of religious hate crimes in the United States. More than 70% of religious hate crimes were against Jews.
Meanwhile, we have no federal budget, three wars and we're broke. Lovely.
Here's my question to you: Should the Senate hold hearings on Muslims' rights in the United States?
Interested to know which ones made it on air?
Mark in Voorhees, New Jersey:
Yes, Jack. Then they should hold hearings on the rights of Protestants, Catholics, Jews, Buddhists, the Latter-day Saints, and the Rosicrucians, as well as atheists, animists, and agnostics. It will be a good excuse for them not to do anything about the banks, the lobbyists, climate change, energy, or job creation.
Stephanie:
When Jews are subjected to more hate crimes in the U.S. than Muslims, it's pretty odd that they would have these hearings, except to score political points and seek to protect a specific group's ideology.
Ralph in Corpus Christi, Texas:
Jack, this makes about as much sense as the French wanting a committee to run the war in Libya!
Bradley in Portland, Oregon:
I think they should have hearings on what the TSA is doing to the rights of ALL of us in the airports.
Russ in Pennsylvania:
Why? Are their rights as citizens any different from mine? Or are we expecting the Senate to provide special rights to ethnic groups of one sort or another? Hasn't the government done such a great job of promoting diversity as it is? Or are we all hoping for another four thousand federal laws be promulgated? Why on earth don't we all tell Congress - and the President - to stop minding our business?
Paul in Parry Sound, Ontario:
I thought everybody in America had the same rights, or are the rules about to change?
Lou:
Seriously? Nothing more important to do? Aren't they still working on last year's budget? If they worked for me I would have fired them a long time ago for failure to complete a task. Oh wait, they do work for me.
Conor in Chicago:
Muslim rights? What the hell does that mean? They're citizens, end of story. They have the same rights as me, period.