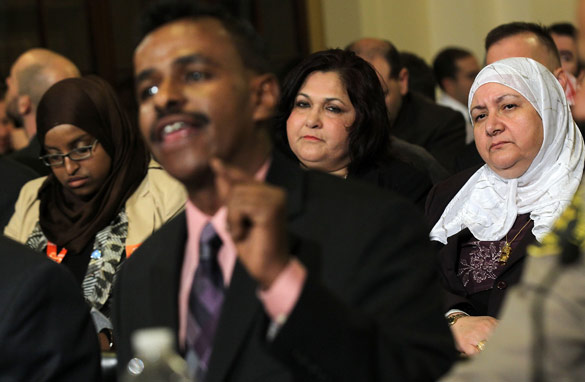 The House Homeland Security Committee held a hearing entitled "The Extent of Radicalization in the American Muslim Community and that Community's Response" on Capitol Hill on March 10. (PHOTO CREDIT: GETTY IMAGES)
FROM CNN's Jack Cafferty:
A Senate Judiciary subcommittee led by Democratic Dick Durbin of Illinois will hold a hearing next week on Muslim-Americans' civil rights. Aren't they the same as every other Americans' civil rights? And is this what needs our immediate attention at this time? Sometimes the people in Washington can make you want to stick sharp objects in your eyes.
The Durbin circus comes just weeks after the circus led by Rep. Peter King, R-New York. He held congressional hearings on the topic of the radicalization of Muslim Americans. Those hearings sparked protests and demonstrations. Critics called them a witch hunt and said they sent the wrong message to Muslim-Americans.
Durbin is apparently trying to send a different message to Muslim-Americans, as if he doesn't have other, more important things to do. These hearings will be the first held by the new subcommittee on the Constitution, civil rights, human rights and the law.
Durbin says he's called for the hearings because there's been an uptick in anti-Muslim sentiment in this country. He says it's important to renew the nation's "commitment to religious diversity and to protect the liberties guaranteed by our Bill of Rights." Right.
However, according to The Washington Times, the latest FBI data show that hate crimes against Muslims account for just 9.3% of religious hate crimes in the United States. More than 70% of religious hate crimes were against Jews.
Meanwhile, we have no federal budget, three wars and we're broke. Lovely.
Here's my question to you: Should the Senate hold hearings on Muslims' rights in the United States?
Interested to know which ones made it on air?