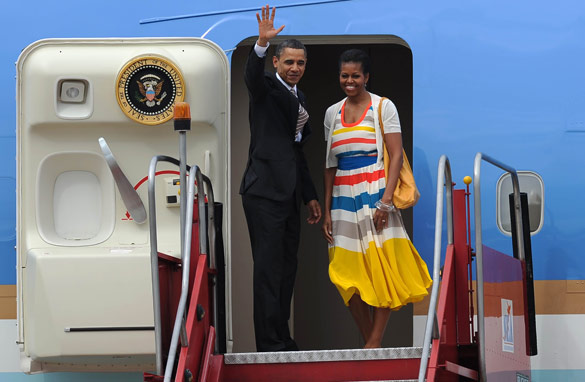 (PHOTO CREDIT: VANDERLEI ALMEIDA/AFP/Getty Images)
FROM CNN's Jack Cafferty:
President Obama is in Chile today, the second stop on a three-nation, five-day trip to South and Central America. It's his first time in the region since he took office.
But it comes at a time when our country is suddenly involved in another hostile military action, airstrikes in Libya, the possible meltdown of nuclear reactors in Japan following an earthquake and tsunami that killed thousands and may cripple that country's economy for some time.
And on the home front, a budget crisis and game of Russian roulette over raising the national debt limit that could lead to the shutdown of the federal government. Perfect time to pack up the wife, kids, mother-in law, and whoever else and go to Carnivale in Rio.
The White House says the goal of the President's trip to Latin America is to expand trade and create more jobs here in the United States.
But Republicans like Senate Minority Leader Mitch McConnell are challenging that, saying that President Obama has dragged his feet on free trade deals with two Latin American allies - Colombia and Panama.
McConnell says that these trade deals were negotiated and finalized about three years ago and have broad bipartisan support. He says it's the administration that is holding things up.
Here's my question to you: Is this the right time for President Obama to go to Latin America?
Interested to know which ones made it on air?