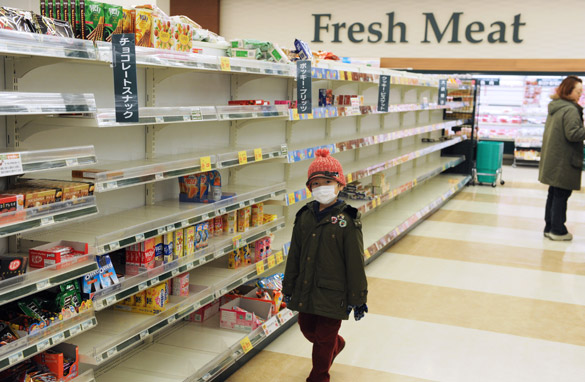 A masked boy walks past nearly-empty shelves at a supermarket in the Japanese city of Akita. (PHOTO CREDIT: ROSLAN RAHMAN/AFP/Getty Images)
FROM CNN's Jack Cafferty:
In the wake of Japan's deadly earthquake, tsunami and nuclear power plant explosions, we have witnessed the almost indescribable chaos that follows a disaster of this magnitude: loss of life, severe injuries, homelessness, lack of water, food and proper medical care, the physical destruction of towns and cities, and a growing fear of radioactive contamination from power plants that seem beyond anyone's ability to control.
But one heart-wrenching byproduct of disasters like this one has been missing in Japan, and that's looting and lawlessness.
Looting is something we see after almost every tragedy; for example: last year's earthquakes in Haiti and Chile, the floods in England in 2007, and of course Hurricane Katrina back in 2005. It happens when some people who've seen life as they know it get tossed out the window feel that all morality has been tossed out too. It's survival of the fittest and whatever you can get your hands on is yours, no matter who it belongs to.
But that's not happening in Japan.
Journalist and social commentator Ed West wrote in the UK Telegraph yesterday how struck he was by the Japanese culture throughout this ordeal. He observed how supermarkets cut their prices in the days following the quake and how vending machine owners were giving out free drinks as "people work together to survive." And West was most surprised by the fact that there was no looting.
Many have pointed to the popularity of Japan's distinctive Buddhist and Shinto religions as well as how the values of conformity and consensus are considered virtues in their culture. That's one explanation, but it probably has something to do with remaining true to your moral code even in the darkest hours.
Here's my question to you: Why is there no looting in Japan?
Interested to know which ones made it on air?