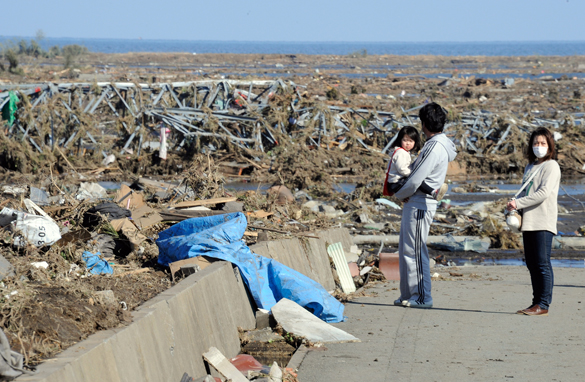 (PHOTO CREDIT: TORU YAMANAKA/AFP/Getty Images)
FROM CNN's Jack Cafferty:
Inspectors from all over the world are trying to figure out how dangerous the Japan nuclear situation actually is. It can't be good: hydrogen explosions, fuel rods exposed, reactors overheating, radioactive vapor being released into the atmosphere.
The director of the International Atomic Energy Agency said today the situation at the Fukushima Daiichi power plants is unlikely to become another Chernobyl. Really? Why is my BS detector on red alert? And what happens if a series of major aftershocks rock that region?
France's nuclear watchdog today said the situation at Fukushima is worse than Three Mile Island, the 1979 meltdown at a plant in central Pennsylvania. That was the worst nuclear accident in U.S. history so far.
No one was injured at Three Mile Island and no one died, but the situation was considered so serious that the U.S. Nuclear Regulatory Commission ramped up safety standards after the accident and stopped the construction of new reactors for about 30 years.
But we've got growing demand for energy in this country… and nuclear power has been poised to make a sort of comeback. In the past few years a handful of power companies have applied for permits to build new reactors.
Republican Congressman Devin Nunes of California introduced a bill earlier this month that would call for the construction of 200 new nuclear reactors by the year 2040. President Obama has touted nuclear power, saying it may be part of the solution to the energy and global warming issues facing the U.S.
It all sounded good until last Friday in Japan. Now you can bet approval for new nuclear construction will be hard to come by whether the world is running out of oil or not.
Here's my question to you: Should the Japan earthquake stop any future construction of nuclear power plants?
Interested to know which ones made it on air?
Robert in Formoso, Kansas:
Yes, but not necessarily for the obvious reason. Before building additional power plants, we must first be able to safely dispose of the spent fuel product. Hiding it in tin cans in abandoned salt mines is not the answer. "Out of sight, out of mind" will not work for future inhabitants of the planet.
Tom:
Not at all. If anything, this is a chance for us to learn how to make better, safer nuclear power plants. We learn by failure, and this is something that can help prevent things like this from happening in the future.
Dave in Huntington, New York:
The reason your BS detector is on "red alert" is because the captain of the nuclear powered aircraft carrier that was sent to help, took one look at the radiation levels of returning planes and got his boat outta there ASAP. The intelligent thing to do would be to stop the construction of Fission reactors and work on developing Fusion reactors – they are safe, do not generate toxic waste and use abundant fuel. Our sun is a giant fusion reactor and we bask in that all our lives.
David:
No, it shouldn't, but it probably will. An interesting question recently came up on another forum about the terrible disasters of Three Mile Island and Chernobyl, which was "how many people died?" The answer was zero at 3 mile island, while some 50 died as a direct result of Chernobyl.
Paul:
A popular question, but no, I don't think so. Nuclear power has been around since the 1950's with plants located all around the world. And outside of Chernobyl, there have been no major breaches or catastrophes. How many oil spills have we had? It's also the only viable, efficient source of energy outside of fossil fuels. Renewable energy is still developing and not there yet. And until it is, we can't do without it.
Jeremy in Albany, Georgia:
Definitely shouldn't affect new construction on nuclear power plants. The odds of having issues such as Japan is very slim, just like Japan's chances. Nuclear power is way cleaner and more cost effective than coal burning powerhouses and also put a lot of people to work during and after construction.