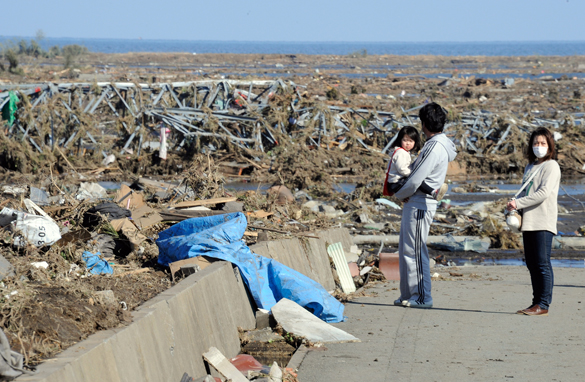 (PHOTO CREDIT: TORU YAMANAKA/AFP/Getty Images)
FROM CNN's Jack Cafferty:
Inspectors from all over the world are trying to figure out how dangerous the Japan nuclear situation actually is. It can't be good: hydrogen explosions, fuel rods exposed, reactors overheating, radioactive vapor being released into the atmosphere.
The director of the International Atomic Energy Agency said today the situation at the Fukushima Daiichi power plants is unlikely to become another Chernobyl. Really? Why is my BS detector on red alert? And what happens if a series of major aftershocks rock that region?
France's nuclear watchdog today said the situation at Fukushima is worse than Three Mile Island, the 1979 meltdown at a plant in central Pennsylvania. That was the worst nuclear accident in U.S. history so far.
No one was injured at Three Mile Island and no one died, but the situation was considered so serious that the U.S. Nuclear Regulatory Commission ramped up safety standards after the accident and stopped the construction of new reactors for about 30 years.
But we've got growing demand for energy in this country… and nuclear power has been poised to make a sort of comeback. In the past few years a handful of power companies have applied for permits to build new reactors.
Republican Congressman Devin Nunes of California introduced a bill earlier this month that would call for the construction of 200 new nuclear reactors by the year 2040. President Obama has touted nuclear power, saying it may be part of the solution to the energy and global warming issues facing the U.S.
It all sounded good until last Friday in Japan. Now you can bet approval for new nuclear construction will be hard to come by whether the world is running out of oil or not.
Here's my question to you: Should the Japan earthquake stop any future construction of nuclear power plants?
Interested to know which ones made it on air?