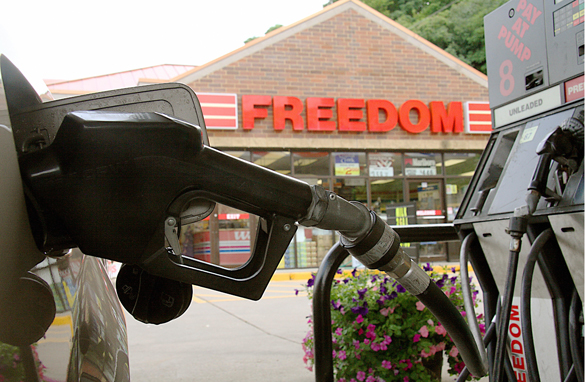 (PHOTO CREDIT: GETTY IMAGES)
FROM CNN's Jack Cafferty:
In case you hadn't noticed, it may soon be cheaper to buy whiskey than gasoline. Thursday morning the national average price for a gallon of gas stood at $3.53. That's an increase of 39 cents over the last three weeks alone, according to the Energy Department.
And it's not going to get better any time soon. The government predicts the average family will spend $700 more for gasoline in 2011 than in 2010, a 28% increase from last year. That's no small chunk of change when the median household income in this country is about $49,000 a year.
So how high will it go? According a new Gallup Poll, 37% of Americans think prices will hit $3.75 – $4 a gallon in their area. More than a quarter of Americans think gas prices will exceed $5 a gallon. Only 8% of Americans think gas will be less than $3.75.
But before we collectively hyperventilate over this news consider this: In Europe most people pay the equivalent of $7.50 to $8 a gallon. In Greece, gasoline costs about $8.45 a gallon.
The cheapest gas is in OPEC nations like Saudi Arabia, Venezuela and Egypt because it's heavily subsidized by the governments there.
Here's my question to you: How are rising gas prices affecting your way of life?
Interested to know which ones made it on air?
John in New Britain, Pennsylvania:
Not much yet, but luckily I don't have to travel far. I do have a fuel efficient vehicle which helps. Too many people drive mammoth trucks for no reason. Such vehicles also cause more wear and tear on the roads so a tax on heavy large vehicles may be appropriate to encourage people to wise up.
Louis in La Salle, Illinois:
Living in rural area as I do, there is no public transportation, and being as I live on a fixed income, I stay home more. I travel out of need and not pleasure.
Bull:
Jack, I'm retired and hardly go anywhere. But it sure is hurting the working class. I think if the American people would band together and no one turned a wheel for one day you would see gas prices fall like a rock. If it didn't work this week, do it again next week.
Donna in Wisconsin:
We live on a budget and so it is an impact. But we were also smart and bought a Prius in 2008, the last time gas prices went way up. Love that car!
Rick in Temecula, California:
Banks get bailouts, oil companies raise prices when someone in the Middle East sneezes, I run out and get a loan to buy a fuel efficient vehicle. Banks and oil companies win... again.
Roman in Butler, Pennsylvania:
Good thing it's Lent, Jack. Won't have to buy meat for forty days. On a more serious side, it's expensive to do business. Thinking about putting a new engine in the truck, maybe to run natural gas or propane.
Andy in Lynn, Massachusetts:
I've stopped driving. I hitch the horse to my buckboard. If it's good enough for the Amish then it's good enough for me. My hay bill has gone way up though.