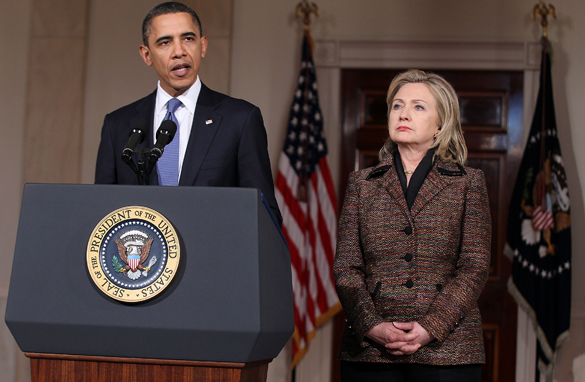 (PHOTO CREDIT: GETTY IMAGES)
FROM CNN's Jack Cafferty:
The United States is in a very tough spot when it comes to Libya, and President Obama has taken some heat for not being more vocal on the crisis.
The White House has said repeatedly it's weighing its options, and that nothing is off the table. But the president has said little more. And we've been "weighing" for a while now.
The president is walking a tightrope: If the U.S. acts unilaterally - no matter how noble the cause of helping those in Libya fighting for their freedom - we will be seen as interfering in yet another Muslim nation's business. That perception is what got us 9/11.
So, President Obama isn't saying much publicly. He's had strong words for Gadhafi, demanding he step down; but he's stopped short of calling for any other specifics. Gadhafi's still there.
In the meantime, Secretary of State Hillary Clinton has emerged as the mouthpiece for the administration. She traveled to Geneva last week to meet with top diplomats and discuss military and humanitarian options.
Clinton told Sky News yesterday that the U.S. wants to see the international community support a no-fly zone. She also said it was important that the United Nations decide what to do about the conflict in Libya, not the United States.
Some of the president's top aides were scheduled to meet today to discuss the situation in Libya, including Secretary of State Clinton, Leon Panetta, the director of the CIA and Chairman of the Joint Chiefs of Staff, Admiral Mike Mullen. But the President of the United States, the Commander in Chief, was not scheduled to attend.
Here's my question to you: When it comes to Libya, who has the stronger voice: Hillary Clinton or Barack Obama?
Interested to know which ones made it on air?
Mark:
Without a doubt, Hillary Clinton. Unfortunately, she cannot get that far ahead of the White House message, and even worse, the White House hasn't yet made up their mind. Too bad we don't have an adult in the White House as we do at the State Department.
Ram in San Jose, California:
Absolutely the stronger and more resolute voice consistently has been Hillary Clinton who warned presciently in Doha that the foundations of progress in the Middle East are 'sinking into the sand,' and that the region faces disaster without real reforms. Events starting with Tunisia to Egypt have proven her wisdom right.
Rich in Texas:
Neither. Talk is cheap, Jack. Both Obama and Clinton can talk until they are blue in the face and the result will be the same. People in Libya will still die. Giving lip service to the media only builds a stronger case for replacement in the next presidential election.
Jenny in Nanuet, New York:
They're both doing what's appropriate for their positions in the administration. Together, they're playing it perfectly as to not stoke anti-Americanism.
Anthony:
I'm not a big fan of Clinton, but I think she is a stronger voice on many issues than Obama. Obama has not demonstrated the leadership skills or his professed leadership skills since his campaign. The United States is the greatest nation in the world and we deserve a great leader which we surely do not have at this time.
Cal in Norwalk, Ohio:
Easy. Neither one.
Dawn:
Who knows whose voice is stronger? While we talk, talk, talk, the brave people of Libya are dying. For God's sake, level the playing field with a "no fly zone." Give them a chance.
Kirk in Apple Valley, Minnesota:
Who cares? I'm tired of hearing about Libya. What are we going to do about it anyway? Invade?