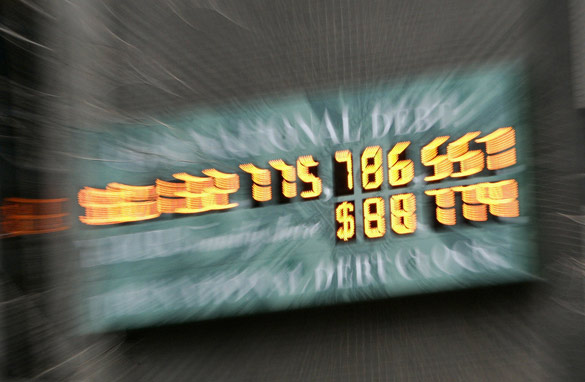 The National Debt Clock in New York City. (PHOTO CREDIT: TIMOTHY A. CLARY/AFP/Getty Images)
FROM CNN's Jack Cafferty:
As Congress continues to all but ignore the debt crisis in this country, the threat of a government shutdown is now less than two weeks away. Lawmakers are looking to make spending cuts for this fiscal year's budget both Republicans and Democrats can agree on.
It won't happen.
With a $14 trillion debt and a projected deficit of $1.6 trillion for this year alone, Congress is arguing over whether to cut $10 billion or $60 billion from the budget. They are completely divorced from reality in Washington.
Here's the reality:
Sometime between April 15 and May 31, our national debt is going to exceed the debt ceiling – the U.S. borrowing limit – which now stands at $14.29 trillion.
The debt ceiling has been raised 40 times in the last 30 years. Under President George W. Bush, Congress approved measures to increase the debt limit seven times.
Treasury Secretary Timothy Geithner and Federal Reserve Chairman Ben Bernanke both want the debt limit raised. If it's not raised, they say the United States could default on loans and other financial obligations, which could lead to an economic meltdown.
President Obama and Democratic leaders support raising the debt ceiling. Of course. But Republicans say they'll vote down any measure to increase the debt limit unless some sort of cap on federal spending is included.
Here's my question to you: Should Congress vote again to raise the nation's debt ceiling?
Tune in to the Situation Room at 6pm to see if Jack reads your answer on air.
And, we love to know where you're writing from, so please include your city and state with your comment.